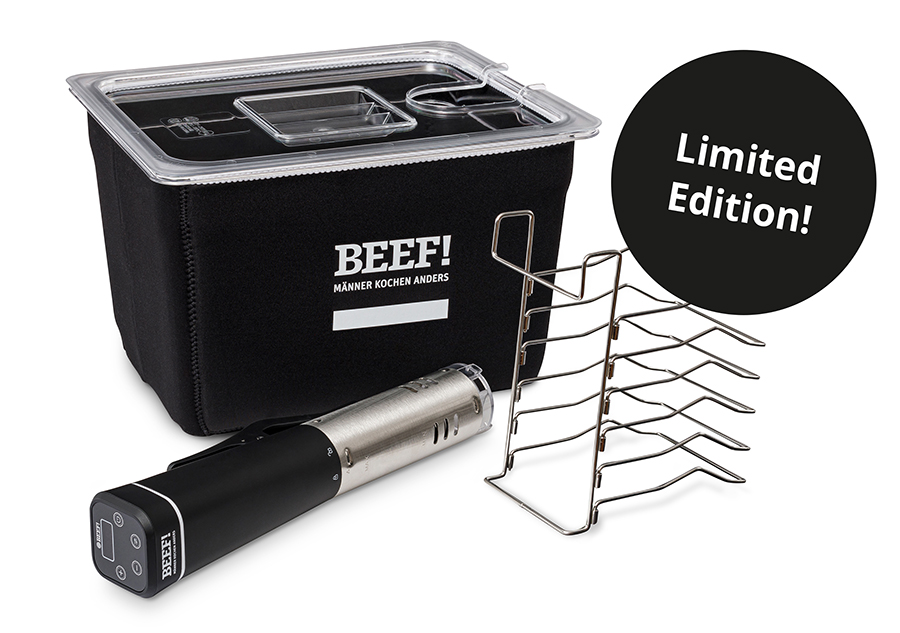 BEEF! SOUS VIDE SET
The BEEF! Sous Vide Set (4 pieces) guarantees a perfect cooking results – your guests will be delighted.
Shipment
1 x BEEF! Sous Vide Stick LX.20
1 x 12 l Sous Vide Basin
1 x Sous Vide Bag Holder
1 x Insulation Cover for basin
Note: Delivery without decoration / attachments
Shipping-Info
Product is on stock, shipping time depending on destination.
---
The best cooking result

Attach the Sous Vide Stick to any heat-resistant container thanks to the flexible retaining clip. The temperature and cooking time can be easily set using the intuitive display.
Thanks to its incredibly powerful output of 1200 W, the stick heats the water extremly quick and monitors the water temperature with an accuracy of +/- 0.1 ° C. An integrated circulation pump ensures a constant water temperature and ensures constant results.
In addition to the Sous Vide Stick, the exclusive BEEF! Sous Vide Set has everything you need to start cooking right away.
The transparent 12 l plastic basin offers enough space to cook for several guests. Thanks to the tailor-made recess for the Sous Vide Stick in the lid, the heat stays much better in the basin and no water evaporates even with longer cooking times. In order to save even more energy, the set contains a high-quality neoprene insulating cover that also protects the container against heat loss.
The practical stainless steel Sous Vide Bag Holder can be easily attached at the side of the basin. Up to five sealed bags can be fixed in the holder. In this way you achieve perfect cooking results when preparing several bags at the same time.
Sous Vide Stick
Working Power Pmax – 1200 W
Dimensions – 5,5 x  31,0 cm (WxH)
Temperature accuracy – +/- 0.1 °C
Color – black
Waterproof version (IPX7)
High-quality rubberized surface for perfect handling
Circulation pump and propeller for high temperature stability
Timer – up to 99h 59min
Temperature range – electronically adjustable from 0 to +90 °C
Water volume – Suitable for 5 to 20 litres
Protection system when running dry
LCD Touch Display
Defrost funktion
Yogurt maker funktion
Sous Vide Basin
Dimensions – 320 x 260 x 200 mm (L x W x H)
Precisely fitting cut-out for sous vide stick in the lid
Dishwasher safe, food safe
Color – transparent