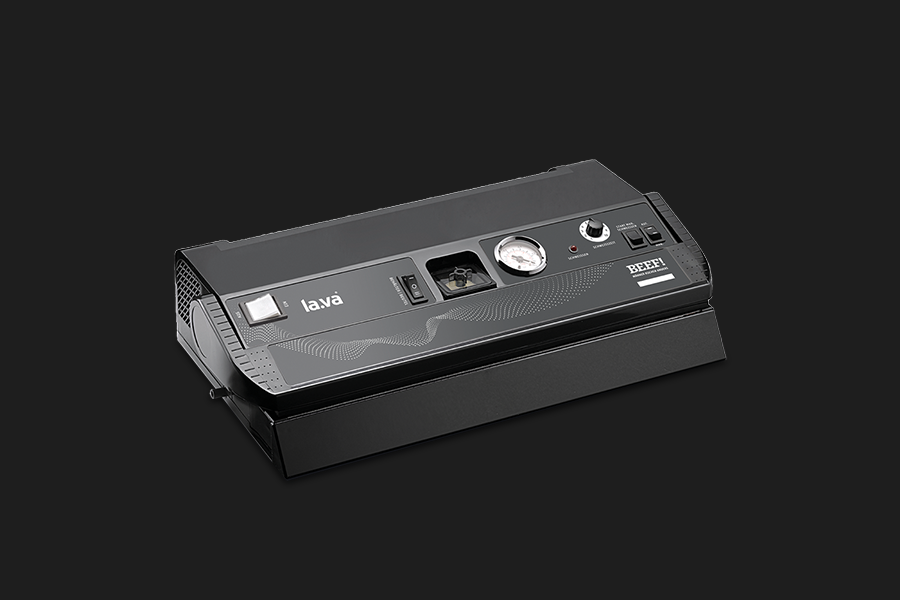 BEEF! VACUUM SEALER V.300 BLACK
The vacuum sealer for real professionals in a limited BEEF! Edition. A real strong one in a simple design. The Lava V.300 Black offers everything you want for professional work in the kitchen.
Shipment
• Vakuum Sealer V.300 Black Beef! Edition
• Automatic vacuum pressure regulation for sensitive food
• Vacuum sealing bags 20 x 30 cm extra strong
• Vakuum sealing bags 25 x 30 cm for Steaks (black, DRY AGER branding)
• Tags for labeling of bag
• Permanent marker for labeling
• A roll of bone protection linen 10 cm x 5 m
• G-line Glass Vaccum-Container 1520 ml
• Vaccum cover for glass jars + 1 glass jar 1000 ml
• 5 year warranty
Shipping-Info
Product is on stock, shipping time depending on destination.
---
Best protection for valuable content
The extra-powerful turbo pump not only enables fast and long-term work without overheating, but also guarantees your food a particularly long life due to a negative pressure of up to -0.96 bar. A professionally vacuum-sealed steak of beef can be stored in the refrigerator for up to 40 days, and frozen for up to 3 years. Without any loss of taste or quality.
More gently? No problem! With the supplied L + pressure regulator, you can precisely regulate the strength of vacuum sealing. You can easily keep soft products from being destroyed. The V.300 Black also scores with extra security when sealing the bag. A double weld seal provides double protection and prevents air leakage.
All functions at a glance:
• Fully automatic: automatic closing and vacuuming sealing process. Monitored by lava sensor control.
• Professional vacuum sealing of food, industrial parts and other products
• Sealing and vacuum sealing of foil bags or foil rolls, the device can be switched to container mode at any time
• The welding time is infinitely adjustable – this means that even thick foils up to 200µ (industrial thickness) and a length of up to 340 mm wide can be sealed
• Easy production of individual long foil bags (you can find matching endless rolls in 5 widths in the Lava accessories area)
• The gentle vacuum sealing: Exact pressure regulation as standard in the V.300® Black BEEF! Edition, for vacuuming pressure-sensitive food
• Intentionally no pressure regulation via the stop function or "manual welding" as is sometimes the case with other devices
• Also included: pulse function or interval switching of the pump via the standard pressure regulation possible
• Vacuum sealing of vacuum containers, pots, glass jars and twist-off jars using vacuum cover and jars
• Normal sealing of foil bags up to 200µ is possible, so it can also be used as a normal foil sealing device
• Vacuum sealing of liquids (with the standard Lava L + pressure regulator or pre-frozen, depending on the amount of liquid)
• Cost savings: Vacuum sealing of smooth, standard sealing edge foils of 120µ thickness for vacuum sealing possible
Pump output rate – about 35 l/min.
Maximum negativ pressure – -0.96 bar (-960 mbar)
Pressure display – by manometer
Up to 1,000 consecutive applications without overheating
Sealing bar– 340mm
LCS (Lava Close System)
LTP (Lava Turbo Pumpe)
L+ pressure regulation
Double weld seam
Automatic vacuum sealing process
Liquid and particulate filter
Housing – high quality ABS plastic
Color – black
Voltage – 220-240 V
Working Power Pmax – 600 W
Dimensions – 410 x 230 x 98 mm (WxDxH)