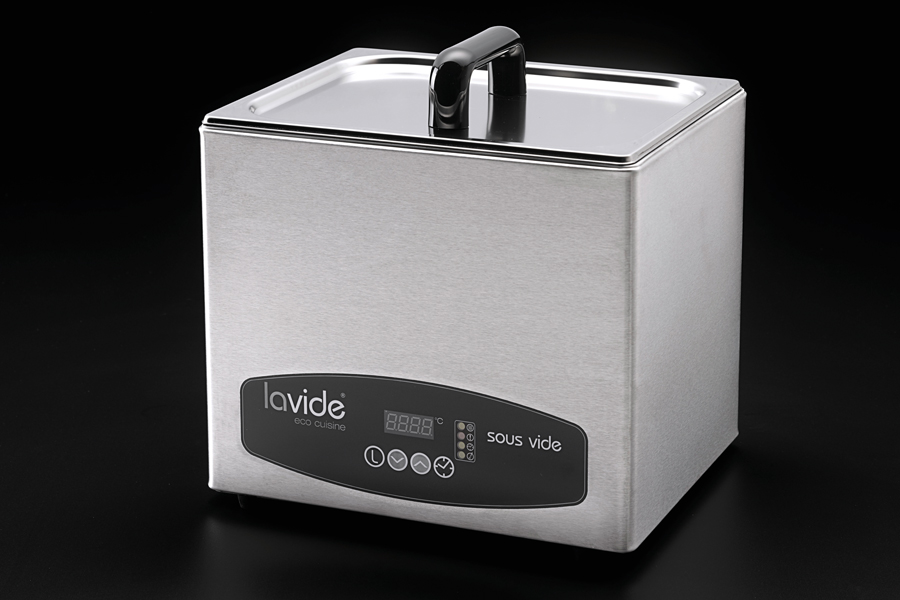 Professional Sous-Vide Waterbath
A special treat: Dry Aged Beef Sous-Vide. Cooking with Lavide LV.80® – made entirely of stainless steel. The best-selling Lavide water bath.
Shipment
1 x Sous vide water bath LV.80® (LV0080)
Shipping-Info
Shipping-Time: 3 – 7 Working-Days
---
Professional equipment for the processing of Dry Aged Beef:
The success guarantee for meat, fish, vegetables and fruits: The sous-vide water bath LV.80® holds 8 liters of water and can be loaded welded with up to 5 kilograms of goods in a vacuum bag. The sous-vide machine is perfectly finished for maximum pleasure during SousVide cooking.
Already knew?
The Lavide LV.80® is a quality product, with an average life of more than 15 years and not a cheaper Far Eastern imports, with a temperature accuracy of the rankommt not far to this unit, as it usually offers the competition.
Technical specifications:
• 8 liter water Content
• Tempered water & oil, and therefore ideal for direct-cooking
• Temperature accuracy with PID: ± 0.1 ° C
• Temperature setting range: + 5 ° C to + 99 ° C
• Display Input resolution: ± 0.1 ° C
• Voltage / Power supply: 220-240 V / 50-60Hz
• Strong heating power: 800 W
• Electronic temperature control via backlit display with big numbers
• Overheating protection: Can be switched on only when sufficient water
• Perfect to empty thanks to stainless steel water drain + rounded corners + edges inside the bathroom
• Programmable timer: 1 min. to 99 h adjustable / with acoustic signal
• Safety standard: FI overtemperature protection
• High-quality plastic handle on the cover, protects your hands from the heat
• Device works completely without pump, so no wear!
• Weight: 8.6 kg | External dimensions: (L x W x H): 332 x 270 x 290 mm
Learn more about our LV.80® directly under: http://www.la-va.com/sous-vide-waterbath-lv80.htm