Get 10 % off
EVERYTHING* with code » BLACK23 «
Recipes
Bistecca alla fiorentina from Dry Aged Porterhouse Steak
---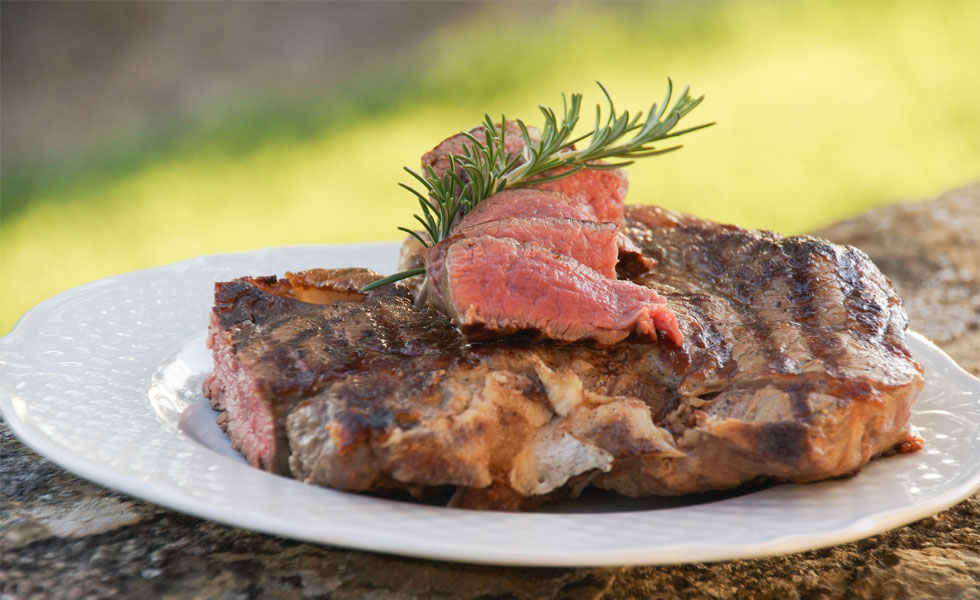 Bistecca alla Fiorentina is an easy to prepare, well known dish from Tuscany that fully depends on the quality of the meat used. The steak Florentine style is a special treat using the meat from the "Chianina" breed, which is not always easy to come by. It is made even more delicious if the steak is placed in the Dry Ager for a short time to intensify the flavour of the meat.
For best results, Bistecca alla Fiorentina is prepared on a hot grill and not in the frying pan. The steak itself should always be prepared for several people. The meat is cut for Bistecca alla Fiorentina from all over the joint. Here up to 1300 grams and up to 6 cms thick slices from the fillet, meat next to the bone and the flat side are cut, which ideally could remain up to 2 weeks in Dry Ager meat maturing fridge.
Preparation:
Preheat the grill.
Brush the steak with a little olive oil.
When the the grill is hot, grill the steak on one side for 4-5 minutes.
Turn the steak over and salt.
Grill this side also for  4-5 minutes.
Test the doneness with your finger.
It is best eaten rare or medium!
Let the steak rest for 5 minutes.
Now remove the bone with a sharp knife.
Serve the wonderful steak at the table and cut into slices. Add some pepper and additional salt on everything, the butter and let it melt.
Tip: Serve with, of course, a fine red wine from the Chianti or Florence regions which are quite wonderful. Those who want to serve it with a modern twist, combine with an off-dry craft beer.
Incredients for 4 persons:
1 Dry-Aged Porterhouse steak from Chianina breed
olive oil
fresh ground pepper
sea salt
20 grams butter