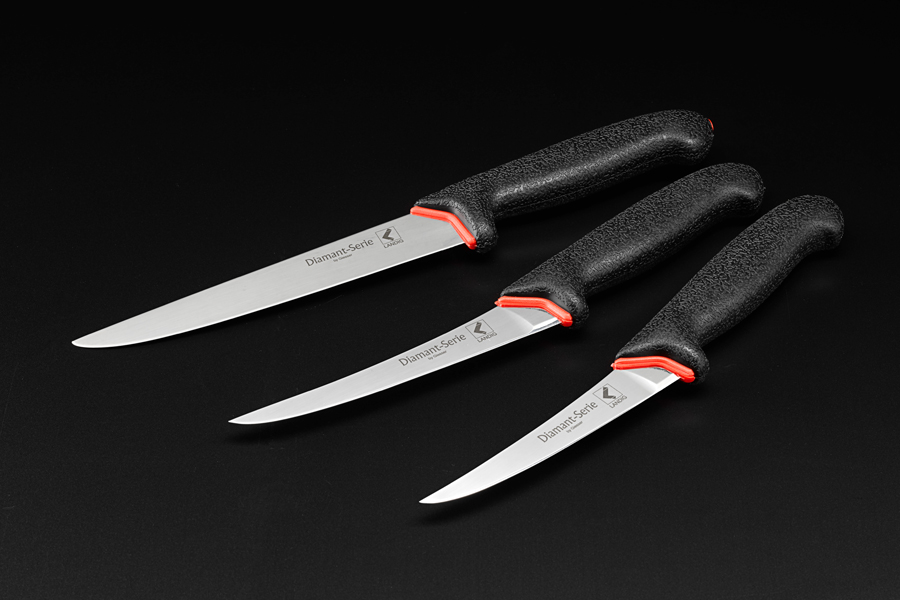 Butcher Knife Set (3 Piece)
Professional Knife Set (3 pieces) for meat processing. You will love it! The best knives for removing loin from the bone or general meat processing.
Shipment
1 x Knife Set – 3 pieces (Z11052)
Shipping-Info
Product is on stock, shipping time depending on destination.
---
Professional tool for processing Dry Aged Beef:
3-piece high quality butchering knife-set consisting of:
1 x boning knife slightly flexible – 13 cm
1 x boning knife slightly flexible – 15 cm
1 x Steak knife rigid – 16 cm
For us the best knives for general meat processing, naturally Made in Germany. Developed by and for professionals, with ergonomic handles for fatigue-free and safe operation. Handles made from an antibacterial soft and slip-proof plastic material. .
The antibacterial handle reliably prevents the risk of cross-contamination. The transition from handle to blade is angled, which makes re-sharpening of the blade very easy.