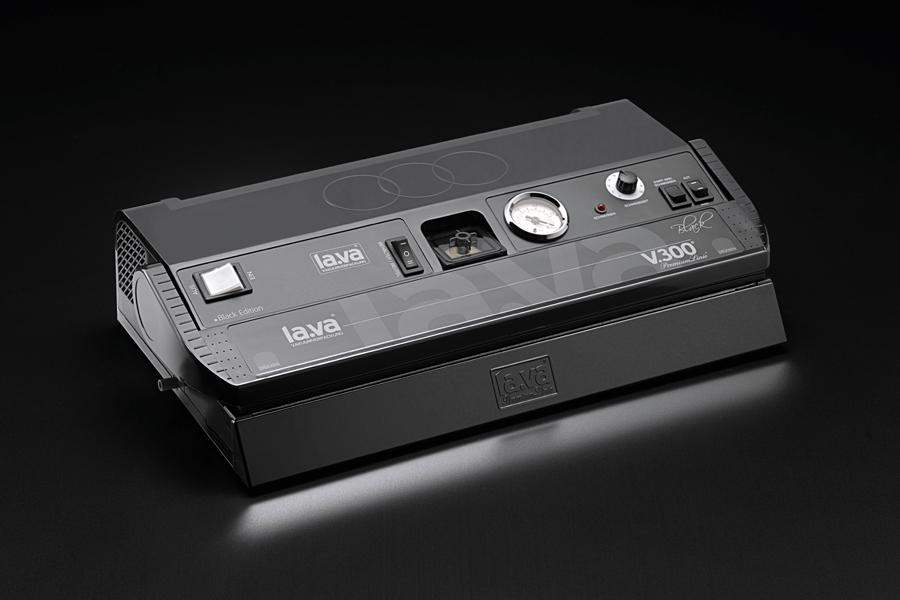 Vacuum Sealer V.300 Black
What a machine: Order now the Lava professional vacuum sealer V.300® Black, Supplied with extensive free set. Dry-Aged Beef frozen will keep good up to 3 years.
Shipment
1 x Vacuum Sealer V.300® Black (VL0300B)
1 x Absorber for containers
1 x 70 € free-set: About 250 vacuum bags (various sizes)
Shipping-Info
Product is on stock, shipping time depending on destination.
---
Professional equipment for the processing of Dry Aged Beef:
V.300® Black – without exaggeration is one of the best Vacuum machines around. You will be amazed by the range of accessories offered – high quality vacuum sealer bags and rolls (in various sizes and thicknesses), acrylic containers, stainless steel bowls, jars and bottles.
Vacuum packing is the best solution for matured (dry-aged) meat: When frozen and vacuum packed, in quality vacuum bags, Dry Aged beef will remain as fresh as the day it was vacuumed for up to 3 years.
The Lava V.300® Black boasts a strong turbo piston pump, has maximum power and reaches vacuum of -096 bar (-960 mbar). The intergrated filter system protects the pump against small particles such as powder or flour, so optimum power is guaranteed for many years. This robust machine features a double weld, an exact pressure gauge display and fully automatic operation. Also, thanks to the built in LCS® magnetic closure system, the need to press down on the lid is almost entirely omitted, so the vacuuming process runs super easy on the hand.
The device is suitable for domestic, catering and light commercial use. The use of fine textured bags up to 120 microns thick is also available.
Technical specification:
• Up to 1,000 consecutive applications without overheating
• Robust 2 weld
• 340mm sealing bar
• Liquid and particulate filter
• High performance pump (stainless steel cylinder cover)
• Vacuum -0.96 bar (-960 mbar)
• Pump output circa. 35 ltr. / Min
• Automatic vacuum pressure regulation
• Working Power: 600 W
• Voltage: 230 V
• Weight: 4.90 kg
• Dimensions: 410 x 230 x 98 mm (WxDxH)
For more information see: http://www.la-va.com/vacuum-sealer-v300-black.htm
INFO
Lava vacuum packaging does not produce in the Far East, in contrast to most of its competitors. An original Lava machine delivers what others promise! The V.300® Black is a long term investment, with an average life of 15 years!