Recipes
Dry-Aged beef fillet with asparagus and mushrooms
---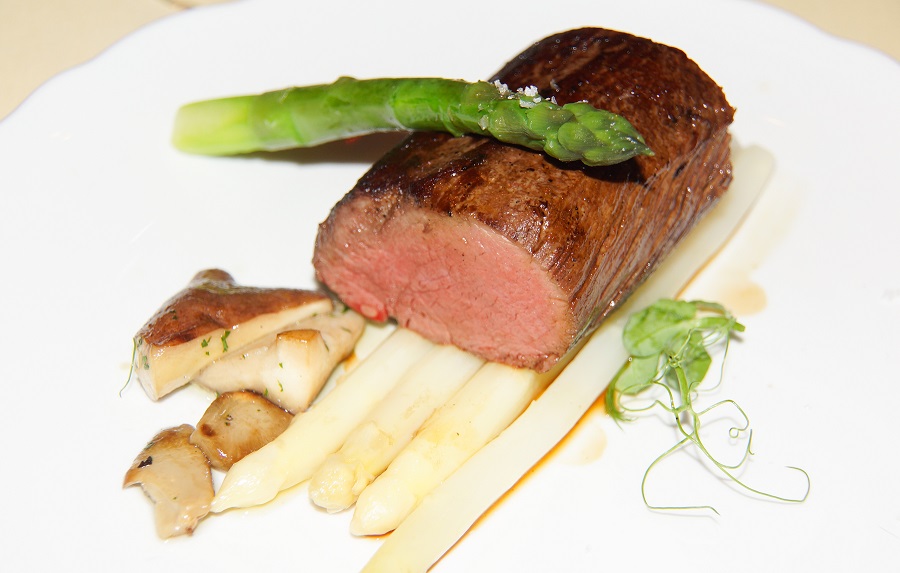 Dry-Aged beef fillet is a special treat. The meat is obtained with an incredibly delicate and aromatic aroma, which is a true taste experience.
Beef fillet and asparagus are great. Green and white asparagus as duet give the plate some color and flavors of spring and summer alike. Mushrooms can also be combined very well, in this case they were herbs – which were deliciously cooked with some butter in the same pan of the fillet.
Preparation: Dry-Aged beef fillet with asparagus and mushrooms
Wash and clean the green asparagus
Wash the white asparagus and peel
Add some sugar & salt to the asparagus water.
Serve asparagus in boiling water.
Clean and chop the mushrooms.
Heat pan with butter.
Fry the meat and turn.
Finally add the mushrooms 2-3 minutes.
Leave the meat in aluminum foil for 5 minutes.
Serve and enjoy!
Tip: A light red wine, but also a beer is a good companion to the food.
Ingredients: Dry-Aged beef fillet with asparagus and mushrooms
For 4 people
Dry-Aged beef fillet a 200 grams per person
pepper
salt
1 branch of rosemary
200 grams of herring seedlings (or other fungi)
500 grams of white asparagus
250 grams of green asparagus
Some butter