Recipes
Dry-Aged Beef fillet with potato pancakes and vegetable bed
---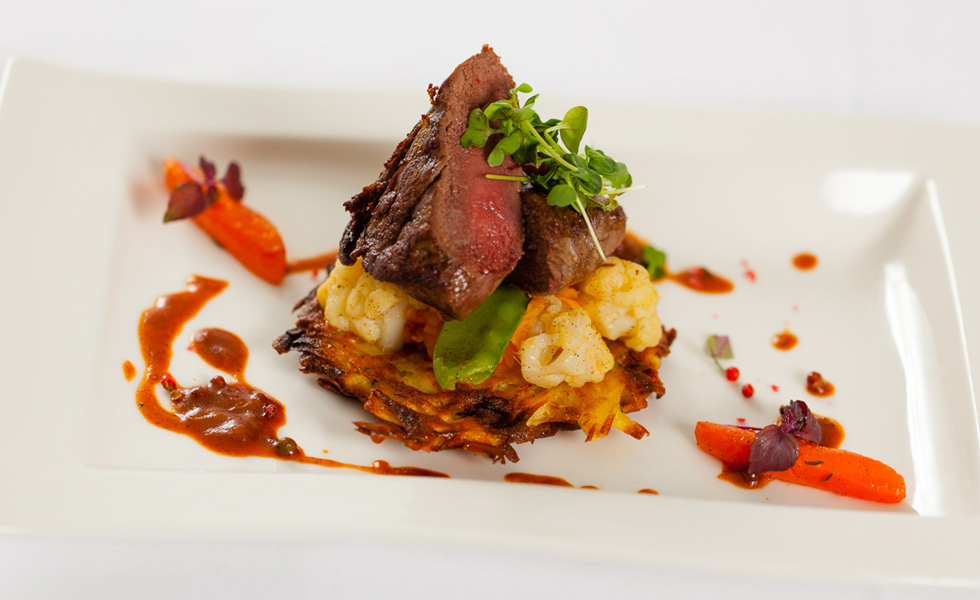 Beef – known as the best piece of meat, is also the most tender. To let it mature, is our great pleasure, because the flavour changes and the texture of the meat is simply better.
For this reason, you should also after dry aging in our DRY AGER®, cut the beef generously and not too thin and either fry in a pan with a sprig of rosemary and a clove of garlic or cook it on the grill. Serve together with a crispy potato pancake and slightly cooked vegetables, absolutely delicious!
Preparation mixed vegetables:
Wash and clean peppers, carrots, cauliflower.
Blanch everything al dente in salted water.
Heat a pan with butter.
Add the vegetables to the pan and cook over a medium flame.
Serve with the butter and the beef!
Preparation of beef:
Take the Dry Aged beef fillet out of the fridge 30 minutes before cooking.
Bring it to room temperature.
Preheat the pan, brush with some oil.
Put rosemary and garlic into the pan
Now place the Dry Aged steaks in the pan.
I recommend to cook it "medium".
Do not forget pepper and salt after serving.
Preparation for potato pancakes
Peel the potatoes and grate on the grater.
Thus, the potato pancakes are nice and crispy, as much liquid must be squeezed from the grated potatoes.
To do this, put portions of the grated potatoe on kitchen towel and wring well.
Now peel the onion and chop finely.
Stir together with the potatoes, eggs, flour, salt and pepper into a uniform dough for potato pancakes.
Heat everything over medium heat
Begin by scooping a big dollop of potato mixture into the hot fat.
Wait about 4 minutes, until the edges are crisp.
Turn over the potato pancakes and bake for another 2 minutes until golden brown colour.
Continue to do this until the mixture is used up.
Serve with the remaining ingredients and enjoy.
Incredients for 4 persons:
4 thick slices of beef
2 garlic cloves
1 sprig of rosemary
500 grams of potatoes
200 Gramm carrots
200 grams cauliflower
200 grams mangetout
1 onions
2 eggs
some butter
Pepper
Salt
Some cress to garnish