Recipes
Dry-Aged beef steak with buckwheat, onions and carrots
---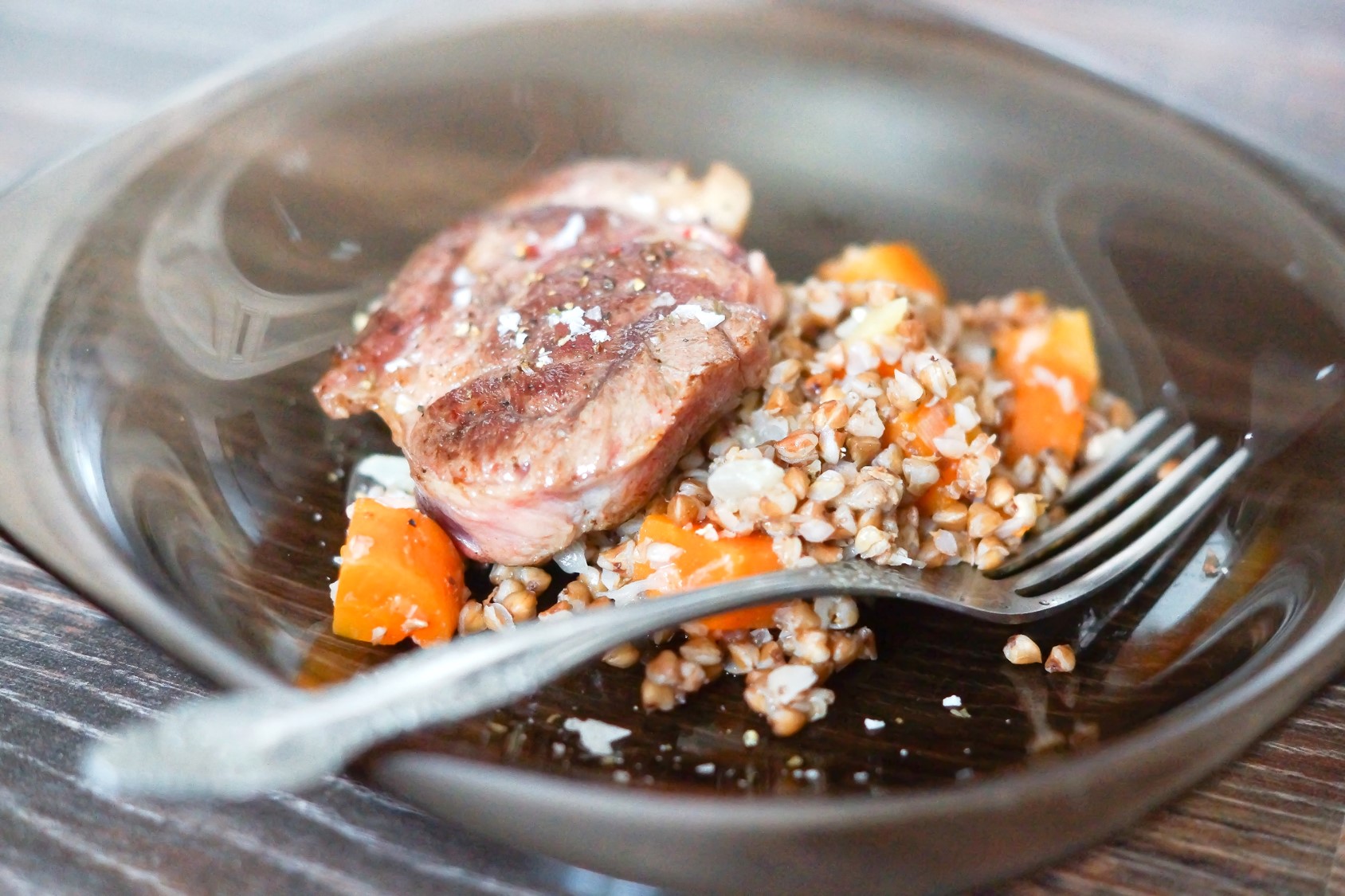 Buckwheat is currently very popular and modern in some countries. What has filled the plates and empty stomachs of the Eastern bloc working class for centuries, is now used enthusiastically by renowned chefs in Germany. Buckwheat is just an fantastic all-rounder with a lot of positive attributs.
Buckwheat is similar to quinoa – quickly prepared and builds a wonderful  basis for many tasty dishes. In this recipe, we use the buckwheat with delicious carrots and onions which are cooked lightly in the pan. In addition, a wonderfully aged beef steak of your favourite cut.
Preparation:
Remove buckwheat from the package.
Fill water in a pot, add buckwheat.
Pass the buckwheat through with your hands.
Put water out.
Add twice as much water as buckwheat to the pot.
Add a little salt and simmer the buckwheat.
Turn off after about 10 minutes.
Leave buckwheat for another 10 minutes.
Peel the carrots and onions.
Cut the carrots into small pieces.
Slice the onion.
Lightly blanch onion and carrots.
Heat oil in a large pan.
Roast the steaks rare or medium.
Put the steaks into aluminum foil, let rest.
Swirl the carrots and onions in the same hot pan a few minutes.
Add the finished buckwheat.
Arrange steaks with the buckwheat mixture.
Add pepper and a little salt.
Enjoy delicious and hot.
Ingredients:
serves 4 persons
4 dry aged steaks, cut of your choice
200 grams of carrots
250 grams of buckwheat
1 large onion
Pepper & Salt
olive oil