Recipes
Dry Aged Befehlet from Simmentaler Cattle with truffle sauce
---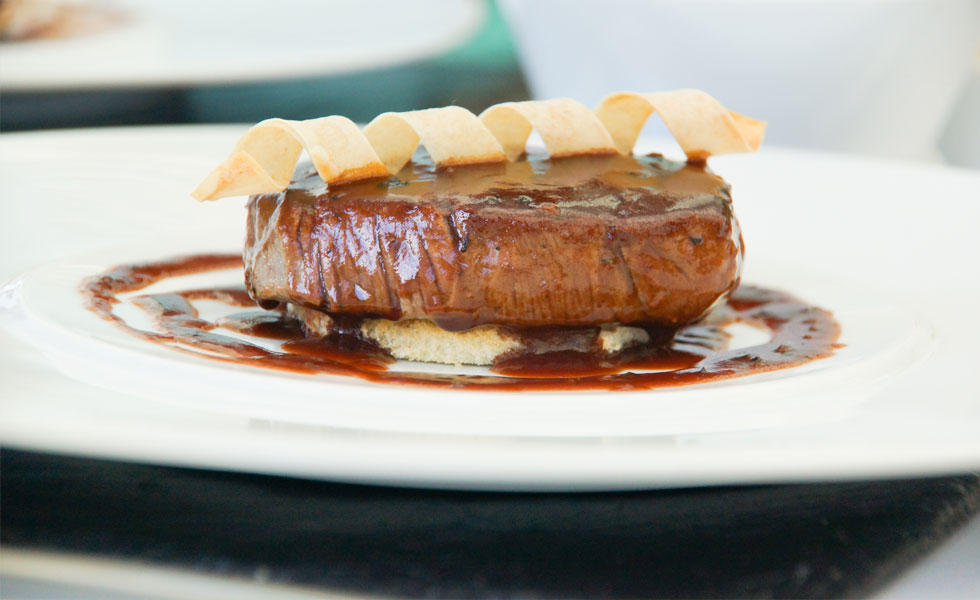 Dry Aged beef from the pan with summer truffle sauce is a recipe from Italy. Delicious summer truffles are available also in our markets. Believe it or not, Dry Aged beef and truffles are a perfect match and complement each other in taste. The aged and matured fillet meat from Simmental tastes a bit more mature and can compete well with the aroma of the truffle.
Tip: serve with the perfect side dishes of potato wedges out of the oven, summer leeks or mashed potatoes.
Preparing Dry Aged Beeffilet
Take out the fillet slicess out of the refrigerator 30 minutes before frying.
They should be brought up to room temperature.
Heat the pan and brush with some oil.
Put the dry-aged fillet steak into the pan.
Prepare them "medium".
For those not so experienced, a grill thermometer is a useful tool.
Preparing the truffle saurce
Brown the shallot in butter.
Reduce everything with port wine
Season with salt and pepper.
Remount the sauce with the cold truffle butter cubes.
Finally, refine with truffles.
Add the sauce to the finished Dry Aged Beef fillet slices.
Serve with side dishes and enjoy!
Ingrediens:
For 8 People
4 big Dry Aged Beef fillet slices
Pepper
Salt
Some oil
For the truffle
1 EL butter
1 Shallot very finely chopped
50 ml veal jus
50 ml port wine
Salt, Pepper
2 Truffle butter ice cubes
10 Grams minced fresh truffles