Get 10 % off
EVERYTHING* with code » BLACK23 «
Recipes
Dry Aged Lamb Chops with Lentil Salad and mashed Potatoes
---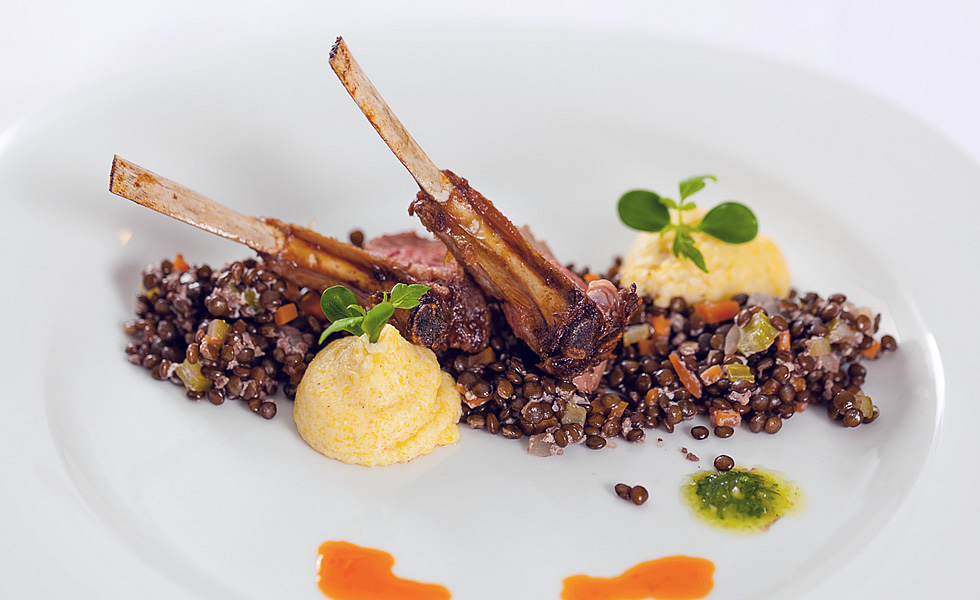 Dry aged lamb chops are an exquisite treat. The unbelievably soft lamb meat has a unique aroma and flavour. The color and texture of the meat speak for the quality and freshness, which also reflects upon the many valuable ingredients such as B-vitamins, minerals and proteins.
The lamb unfolds its full aroma when it has been matured. It loses 20% of its fluids, which results in a unique tenderness of the meat. Ideal for grilling in the summer!
Preparation of the mashed potatoes:
Peel and wash the potatoes and cut into chunks.
Now bring the potatoes to a boil in cold salt water and cook for 20 minutes.
Warm the milk in a small pot and melt the butter inside.
Drain the potatoes and mash them with a potato masher.
Pour the milk into the puree and mix well until the texture is even.
Spice the mashed potatoes with some salt and nutmeg to your taste.
Preparation of the lentil salad:
Throw the lentils and the bay leaf into cold water and cook for 20-25 minutes (make sure not to overcook).
In the meantime, chop the peeled carrots and celery into cubes.
Cook both in hot sunflower oil for approx. 2 minutes (they must stay crisp).
Drain the lentils.
Remove the bay leaf.
Mix the lentils with the other vegetables.
Spice the mixture with balsamic vinegar, salt, sugar and pepper and leave to cool.
Preparation of the lamb chops:
Cut the lamb into slices.
For 4 people = 2 slices per person.
Fire up the grill.
Brush some olive oil onto the lamb and place the meat on the grill.
Grill the meat according to your preferences.
Serve together with the lentil salad and the mashed potatoes.
Cress and herb oil can be used to decorate.
Ingredients:
For 4 people
1 rack of lamb, dry aged with 8 ribs.
Pepper
Salt
400 g potatoes
150ml milk
50 g butter
nutmeg
olive oil
200 g beluga lentils
1 carrot
1 Tbsp. oil
sugar
1 celery stem
1 Tbsp. balsamic vinegar
1 bay leaf