Recipes
Dry Aged Porterhouse from the grill with Pimientos de Padrón
---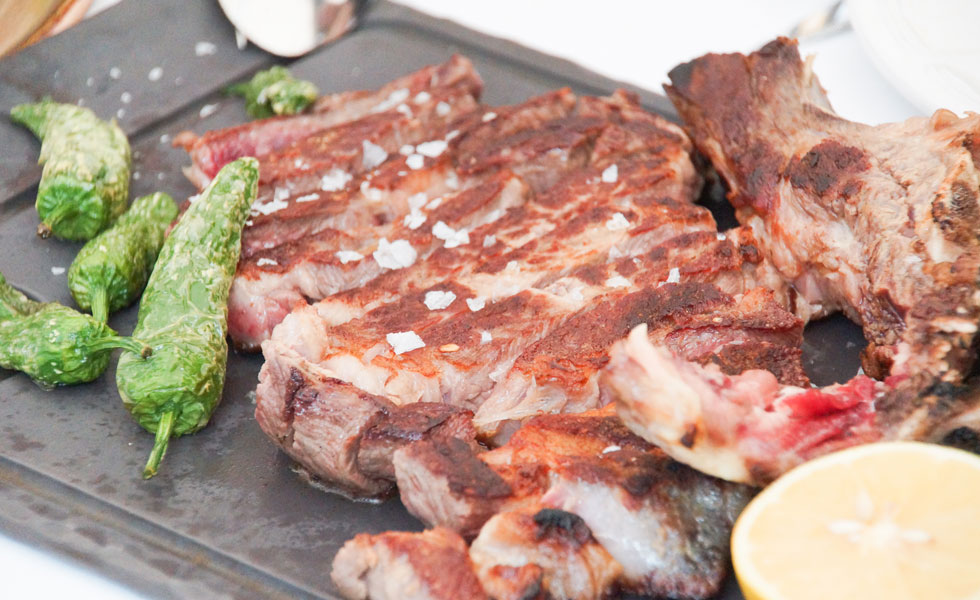 Dry Aged Porterhouse steak with Padrón peppers is a recipe that reminds of that Spainish sunshine and holidays. The fine and slightly tart Pimientos, that are available all year round in our supermarkets, are fantastic for grilling and ready in no time, enjoyed with a touch of salt.
The coronation, however, is the Dry Aged Porterhouse steak, which produces a fine texture and an incomparably delicious taste in our DRY AGER meat maturing fridge.
Prepatation:
Take the Dry Aged steaks out of the fridge about 30 minutes before grilling.
Heat the grill.
Brush the steaks lightly with oil.
Now place the two steaks on the grill.
I recommend to only grill them "medium"
About 3 minutes before reaching the desired temparature put the Pimientos in a small pan with a little bit of oil.
Place it on the grill as well.
After about 3 minutes the pimientos are finished!
Cut the porterhouse steaks off the bone, cut into slices and arrange on plates with the pepper. Remember to salt!
Ingredients:
For 4 persons
2 medium Dry Aged Porterhouse steaks
Pepper
Salt
400 gram Pimientos de Padrón
a bit of oil