Get 10 % off
EVERYTHING* with code » BLACK23 «
Recipes
Dry-Aged roulades from Havelland beef with green beans
---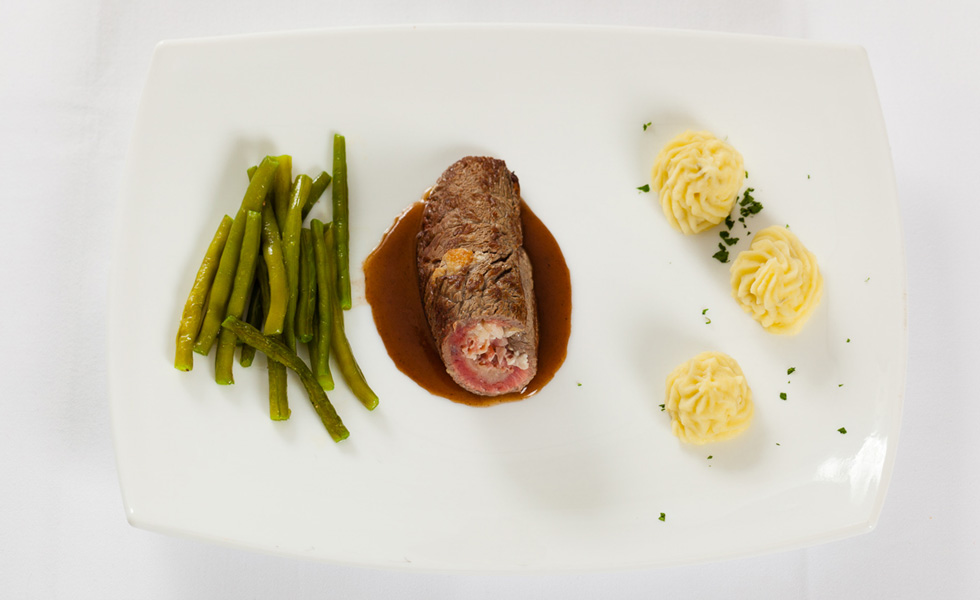 Rolls are a great dish for the whole family and at the weekend a special treat. Whether in summer or winter, rolls always taste and with good meat, which has a regular maturity – it's still delicious. For rolls you usually use upper / lower shell of beef, these can be stored in maturity cupboards and freshly cut right before cooking.
This is ideal and can be prepared with many ingredients to make delicious dishes. I love green beans as they are healthy, fit and stews can be prepared grateful. For the filling, we use a very classic roulade filling – who is creative, can vary at this point
Preparation green beans:
Wash, clean and cut off the ends of the beans.
Cook beans in salted water, they should still have bite.
Now heat a pan with butter
Put the beans in, season with a little salt and pepper.
Toss Everything about 5 minutes, then you're done.
Preparation mashed potatoes:
Peel the potatoes into quarters and cook.
Drain the cooked potatoes and mash with a slotted spoon.
Give some broth and olive oil.
Then stir in the onions
All season with a little lemon juice.
Season with salt and pepper and with nutmeg.
Preparation Beef Rolls:
Open, wash and dry the beef with kitchen paper.
Cut the onions into half moons, cucumber into strips.
Hold scissors and kitchen string ready.
Brush the rolls spread thinly with mustard
Then add salt and pepper.
Centrally distributed on each roulade in length about 1/2 onion and 1 1/2 slices of bacon and 1/2 cucumber.
Now turn the two long sides, then roll and tie up with the kitchen string.
In a pan heat the ghee.
Fry the rolls now, remove and transfer to a slow cooker.
Cut celery, leek and carrots into small pieces and fry in a pan.
Some of red wine pour, let it be reduced.
Once the vegetables are dry then fry again, again pour a layer, stir briefly and continue to evaporate.
Let the pot simmer in the oven for 1 1/2 hours at about 160 degrees.
Do not forget to put some luquid every now and then.
Tip: Serve with a dark sauce that can be drawn from the remains in the roaster for roulades. The food fits a good beer, but also a strong red wine from Burgundy or Rioja is worth a try.
Ingredients for 4 persons:
8 slices of topside / bottom shell of beef
500 grams of green beans
olive oil
50 grams of butter
500 grams of potatoes
50 ml beef broth
1 onion
nutmeg
pepper
Fleur de Sel
Mustard medium hot
8 small gherkins
8 slices bacon
clarified butter
1 bunch of soup vegetables
300 ml meat broth