Recipes
Dry Aged Rumpsteak with Summer Bean Salad
---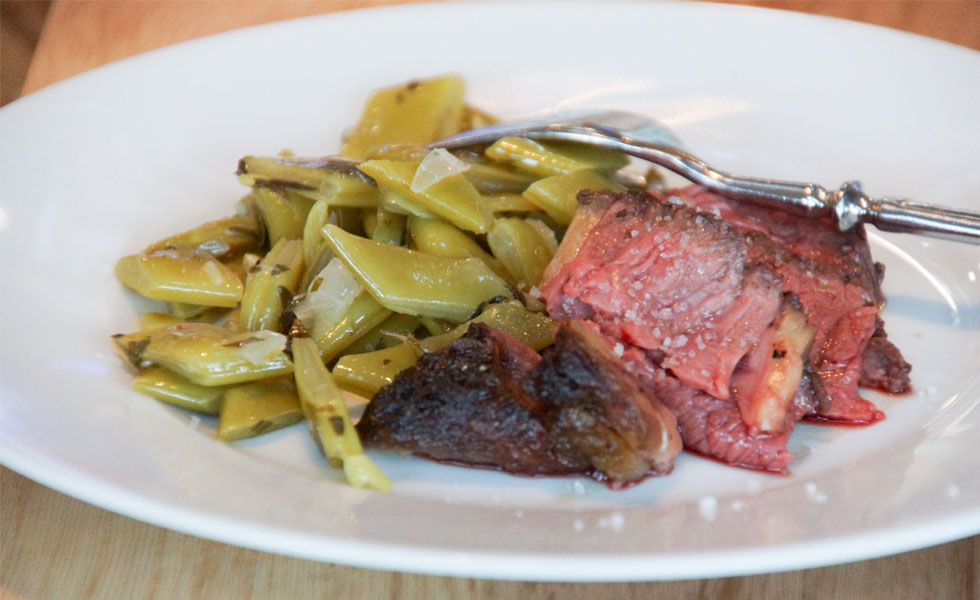 Dry Aged Sirloin Steak grilled with summery bean salad fits the local season, because they are there again – the beans from the garden. Together with our home matured rump steak from the Dry Ager, the recipe is very easy to prepare and delightful with its fine taste.
The recipe is also suitable for events or for your own garden party, because the salad can be prepared the day before and the Dry Aged rump steaks are grilled in a minute and cut for guests.
Preparation Beansalad:
Clean the beans, cut in 3cm pieces.
Rinse everything in a colander.
Place in a pan.
Cover with water, add salt and cook for 8-10 minutes.
Drain the green beans and leave to cool slightly, then place into a bowl.
Peel the onions and chop.
Make a marinade by mixing vinegar, pepper, sugar, salt and oil.
Stir in the onion and mix with the beans.
Cover the bean salad and leave for 30 minutes.
Preparation Rumpsteaks
Take out the Dry Aged Rump steaks 30 minutes before grilling.
Bring up to room temperature.
Heat the grill.
Brush the steaks with oil
Now place the Dry Aged rump steaks on the grill.
Grill them "medium".
For those not so experienced, a grill thermometer is a perfect tool.
Now cut the steaks into slices, arrange on plates with lettuce. Do not forget Salt!
Ingredients:
For 8 People
4 big dry aged rumpsteaks
Pepper
Fleur de Sel
500 Gram Beans
1 big onion
3 El Oliveoil
some savory
some oil
1 EL Sugar
2 EL wine vinegar