Knowledge
Dry-Aging or Wet-Aging – Which meat ripening is better?
---

Meat maturing has become a major topic in recent years. The consumer wants to enjoy a better meat quality again and pays more money. Supermarkets in the premium segment such as REWE, for example, have pre-pared their meat dishes with exotic looking maturing cabinets. Anyone who has ever enjoyed a ripened piece of meat may not be able to go back to the bland industrial meat.
The trend is to create their own possibilities to mature meat at home. Dry-Aging or Wet-Aging is the question here. For whom is the right method and what are the possibilities?
Wet-Aging of Meat – The Cheap Variant
Traditional meat which has a good quality and comes from the supermarket is wet matured. This can be done at home as well, because with a vacuuming device and the maturing bags, the process is super simple. The advantage of wet maturing of meat is obvious. The loss of weight in the vacuum is somewhat lower with approximately 5 percent, compared to a drying process with approx. 10 percent with a Dry Ager cabinet. If one compares taste with both techniques, the spirits separate. The one likes rather dry maturing meat, others the wet matured one. In addition to the weight loss of the wet mature is lower, it is ultimately also a price question whether you want  a maturing cabinet in the kitchen as hobby chef or if you would like to process smaller quantities from time to time.
Dry-Aging – The big brother of meat culture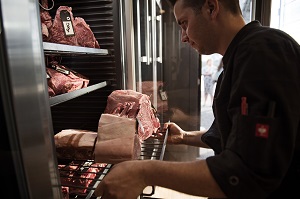 Dryly matured meat is, so to speak, the ultimate culinary delight. Restaurants and supermarkets working in the high-end segment are equipped with dry agers and offer their customers the most sophisticated cuts of the beef. In the meantime, as well as wine cabinets for wine lovers, there are also maturing cabinets for meat lovers. Whether fillet or porterhouse steak, the dry-aging is slightly more expensive than the wet aging. The noble taste and delicacy of the meat is worth every penny.
Both good methods to make meat even better
Which method is the best is always a question of individual taste. There are some hobby chefs who think wet-matured meat has a slightly metallic taste – while others think dry-aged beef is a bit too dry, which is usually associated with the wrong preparation. Meat fans will, however, get their money's worth in both versions. Try it out!