Get 10 % off
EVERYTHING* with code » BLACK23 «
Recipes
Entrecote Steak Dry-Aged with Sumach and Fourme d' Ambert Salad
---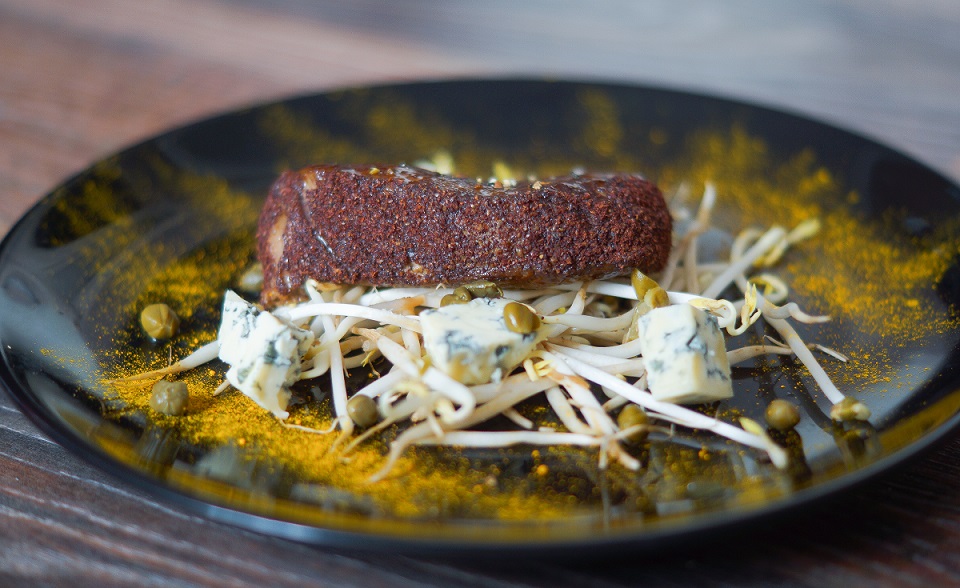 A mixture of crispy salad and well matured steak is always goes well together! Cheese is also a good combination if it is the right cheese. A fabulous blue cheese like the French Fourme d'Ambert is ideal for a seasoned steak. It is soft and aromatic with a light bitter note, just delicious with a dry-aged steak.
When grilled meat is served, the side dishes must be done already. Nothing is more annoying if the salad is not yet made and the expensive steak cools down. In Asia in particular, we experience how simple and tasty meat dishes are quickly prepared.
The salad in this recipe, therefore, only consists of organic sprouts marinated with soy sauce, delicious Italian capers and cheese. This goes perfectly with the Entrecote steak rolled in Sumach – the result is a gourmet meal combining elements from around the world.
Preparation:
For the aged steaks:
Get Dry-Aged Entrecote Steaks from the refrigerator one hour before.
Heat a pan.
Brush the steaks with some olive oil.
Fry steaks in a grill pan to your liking – medium or rare.
Put some sumach powder on a plate.
Coat the grilled steaks in the sumach.
Wrap in aluminium foil and leave to rest for 5 minutes.
Put the sprouts in a bowl.
Marinate sprouts with soy sauce.
Arrange sprouts on the plates.
Cut the cheese and mix it with the sprout salad.
Add the capers by hand as well.
Put some salt and pepper on it.
Finally, place the steak on top and enjoy.
Ingredients:
For 4 persons
4 Entrecote Steaks, Dry-Aged approx. 200 gram
Olive oil
Pepper
Salt
Sumach powder
150 grams Fourme d'Ambert
15 grams capers
5 tablespoons soy sauce
200 gram sprouts, organic quality