Get 10 % off
EVERYTHING* with code » BLACK23 «
Events
Excellent – The DRY AGER® wins the Plus X Award 2017
---

Our customers have long been aware of this: The DRY AGER® stands for fresh design, easy handling and quality. Now the maturing cabinet gets its benefits. With the Plus X Award 2017 in the categories of High Quality, Design, Operating Comfort and Functionality.
Won four times
In Baden-Württemberg the glasses ring. The team behind the DRY AGER® can arouse success four times for the hard work. This year, the DX 1000 has won several categories of the Plus X Award, the innovation prize for technology, sports and lifestyle products. In addition to the "High Quality" award for the overall product, the DRY AGER® was praised in the areas of "design", "ease-of-use" and "functionality".


Quality wins
During the development of the DRY AGER® cabinets, the focus was next to perfect technology and an appealing appearance. After all, they should not only fill kitchens, sales rooms and restaurants, but also decorate them. That the designers from Landig had the right eye shows the Plus X Design Award. The implementation is also always in view. Even though the Dry Aging requires a little background knowledge, the operation of the maturing cabinet should be child-friendly. The easy-to-handle, precise regulation of the air and temperature climate makes the DRY AGER® popular with beginners and private households. In addition, the device does not require its own water or high power connection. The DRY AGER® is not only "Made in Germany", its components also come from the region. Only high-quality materials and sophisticated technology ensure perfect function sequences. High-grade Design and perfect quality got even confirmed by winning another award: The GERMAN DESIGN AWARD 2018!
Motivating success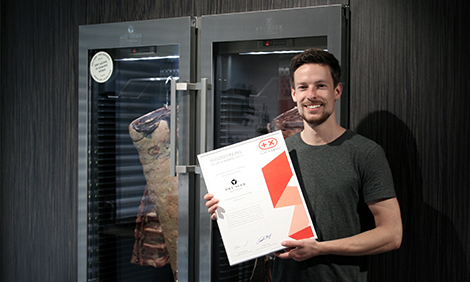 The enthusiasm for technology, sustainability and good food is the basis for the work on DRY AGER®. The family business and its employees place high demands on the practicability and quality of their own products. That the hard work is now honored with the award is therefore a particularly joyous message for the managing directors Christian, Aaron and Manfred Landig and their team. But resting on the laurels is out of the question for the busy Swabians, according to marketing manager Alexander Beck. The success inspires to further improve the products and to implement new innovative ideas.
The award
The Plus X Award annually awards innovative products with the Plus X seal of quality. 25 jury members evaluated around 800 products for the seal this year. The most convincing products are nominated in seven categories. The DRY AGER® was able to win four of them. The independent jury consists of industry experts and specialist journalists. They look for the "factor X" that makes a product special. The main prize for the most innovative brand will be presented in a festive act in Bonn, where all the best companies will once again present themselves.
More DRY AGER awards: iF Design Award | German Design Award | Red Dot Design Award
For more news and stories check out our social media channels: