Knowledge
Meat quality when maturing – How good should it be?
---


If we go into a conventional supermarket, we usually see really cheap products – whether this is with beef, veal, chicken or other meat. Doubtless industrial meat without any soul, animals ever seen a fresh meadow? Rather not the case.
Is it worth buying such a quality and then still mature? This question is controversially discussed in various forums. Some are of the opinion that not everyone can afford premium meat and the taste can also be improved with inferior quality by maturing and marinating. However, this is not so, various tests have proven that not really much changed. A good starting product is essential for the ripening of meat!
Only good things can become even better, is the guiding principle, which also applies to meat maturation.
Natural cattle keeping as the best starting product
Not always we have to have exotic cattle races when it comes to really good meat. Thus, also local bred cattle are a good source for a decent starting product. Get to know which butcher supports local farmers who still have free-bovine cattle – which can graze and feed as naturally as possible. Willow grass, maize, alfalfa, hay, mash, minerals are those things that a cow should receive as the best feed.
The United States – the partial wickedness of bad meat, (in mass production) shows it to us. Some smaller farmers produce incredibly good qualities, like the American Wagyu or US Black Angus – both cattle races that make the gourmet heart beat higher. If you buy such a quality, you should definitely think about a ripening.
Chianina Cattle & Hereford Cattle – Incredibly delicious
Now you do not have to go straight over the large pond to get premium beef. Also in Italy, where the Chianina cattle known for their outstanding quality is at home, the meat is a treat. The oldest meat-breed in the world – in Tuscany  – offers delicious steaks, which become true aromas by ripening processes.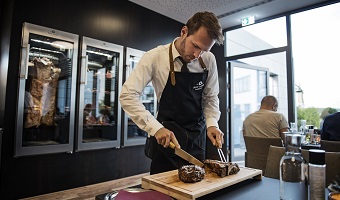 Pure grass feeding ensures the interesting and distinctive flavor. But also the Hereford cattle are a delight to the gourmet. Thanks to a very mild, but all-year damp climate and fertile soils, the green island is bursting with lush green grass. This creates the ideal feed for the Irish cattle and ensures the quality of the butcher.
These suggestions for better meat enjoyment are, of course, not conclusive. Good meat – enjoyed in moderation – does not really hit the purse and the enjoyment of a good steak once a week is more enjoyable than poor quality every day.