Recipes
Spaghetti with basil pesto and dry-aged steak
---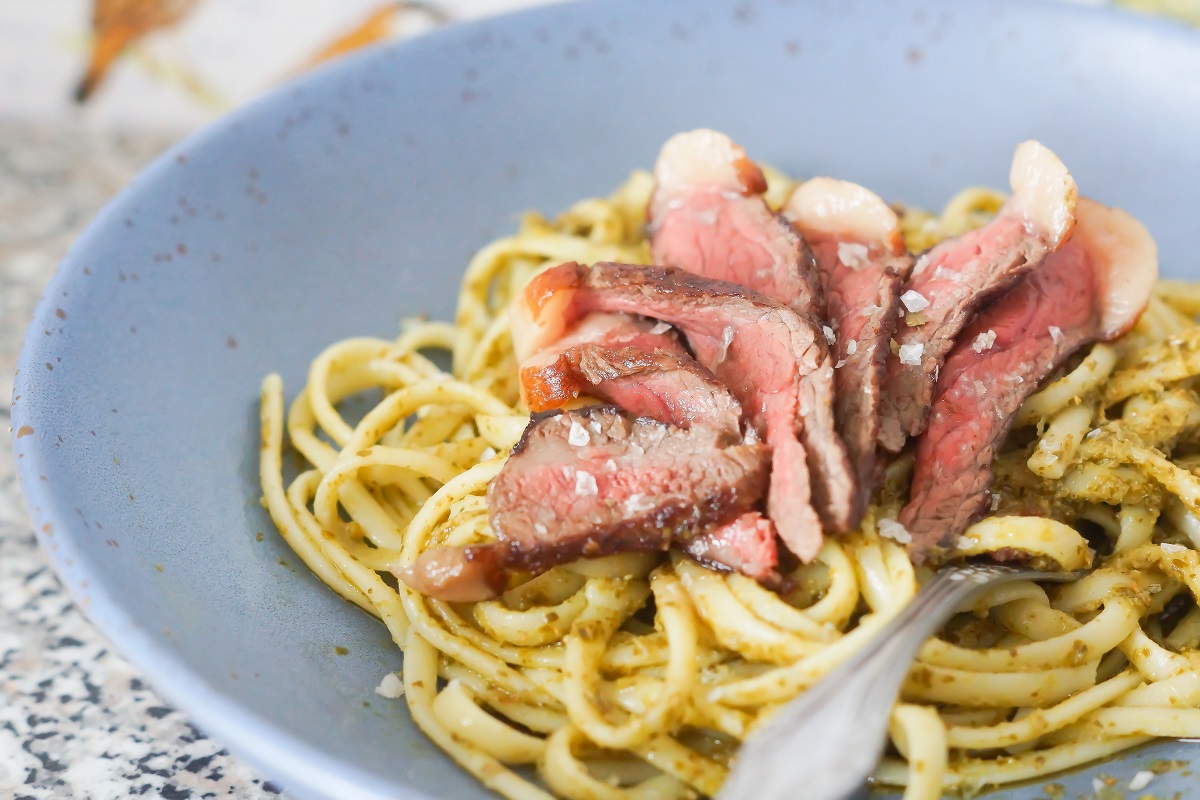 Spaghetti with basil pesto is a real family dish, which is often served in larger groups. It's easy to prepare – whoever has time to make his own pesto and prefers to buy good Italian spaghetti rather than mass-produced products. In the meantime, we also have the smaller manufacturers in the delicatessen trade, and spaghetti is characterised above all by the fact that they have to cook a little longer, but are simply "al dente" – with a great consistency.
We combine this dish with deliciously seasoned meat, either grilled or in a hot frying pan. Have fun enjoying.
Preparation:
Cook the spaghetti in salted water.
Drain the spaghetti and keep warm.
Rub the parmesan.
Remove the steaks from the refrigerator one hour before preparation.
Preheat the pan well.
Add a little olive oil to the steaks.
Fry in the hot pan for 2 minutes on each side.
Instructions for a perfect dry-aged steak from the pan
Wrap in aluminium foil and leave to soak for 5 minutes.
Season the steaks with salt and pepper.
Fry the spaghetti in the pan.
Add basil pesto and parmesan cheese.
Swing everything hot once.
Spread the pasta on plates.
Cut the dry-aged steaks into fine slices.
Put the steak strips on the pasta.
Season with fresh pepper and Fleur de Sel.
Enjoy nice and hot.
Tip: The dish can also be served in a large pan and brought to the table. Align the steak strips in a ring, so that everyone can take his part comfortably.
Ingredients:
Ingredients for 4 persons
500 grams of spaghetti
200 grams basil pesto
100 grams of parmesan cheese
Pepper
Fleur de Sel
2 dry aged steaks of your choice a 200 gram
Some olive oil