Knowledge
The best burger in the world – Homemade with dry-aged beef!
---


In the past few years, the classic burgers have become a true talking point, similar to the dry aging method. Every hobby cook mixes into the discussion, there are brand new restaurant concepts, cookbooks and accessories – yes a whole industry has devoted itself to these topics. Around the burgers alone, there are certainly 20 new cookbooks from the past 3 years – from bread to sauce, this is by no means left to chance and every burger will be the best.
Burger is IN – in every variation
From the cookbooks it was finally made to many small burgers restaurants, all of them completely different concepts and creations. Nothing is dusted, on the contrary the hipster culture has taken over the burger and gives it a new paint. Away from the fries, and even farther away from the two big burger stored, which for the past twenty years have imposed on us their totally unacceptable products at spin-off prices. You pay well for a good product.
But which meat is best for a good burger? We tried it with dry-aged beef and are of the opinion – this is the best burger in the world!
Dry-Aged Beef Burger – So simple – so delicious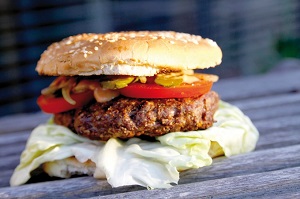 In the trade there are already the Patties with Dry-Aged Beef for juicy Burger. But you can also prepare on your own. For this, let the Entrecote mature for 28 days in the Dry-Ager and then twist through the wolf. What should be right is the fat / meat ratio, because with about 20% fat, the burger becomes really juicy. We prepared the burgers with Black Angus Beef from the USA and loved it. Animals fed mainly with willow grass produce an excellent taste and are suitable for further processing.
The ripening for the burger meat can be done both in the Dry Ager, with small portions however also with the Dry Aging bag. When ripening in the bag, the meat should be placed on a grate in the refrigerator when it is vacuumed, and it should be moved as little as possible. The air should circulate around the meat for optimal maturation.
Dry-Aged Beef Burger – With homemade rolls even finer
If you have the effort and leisure to let the meat mature for the burger, the should also not save on the bread rolls. Do it yourself! There are many recipes and the surprise of the guests is all the greater when the burger comes with homemade bread rolls from the grill. Bon Appetit