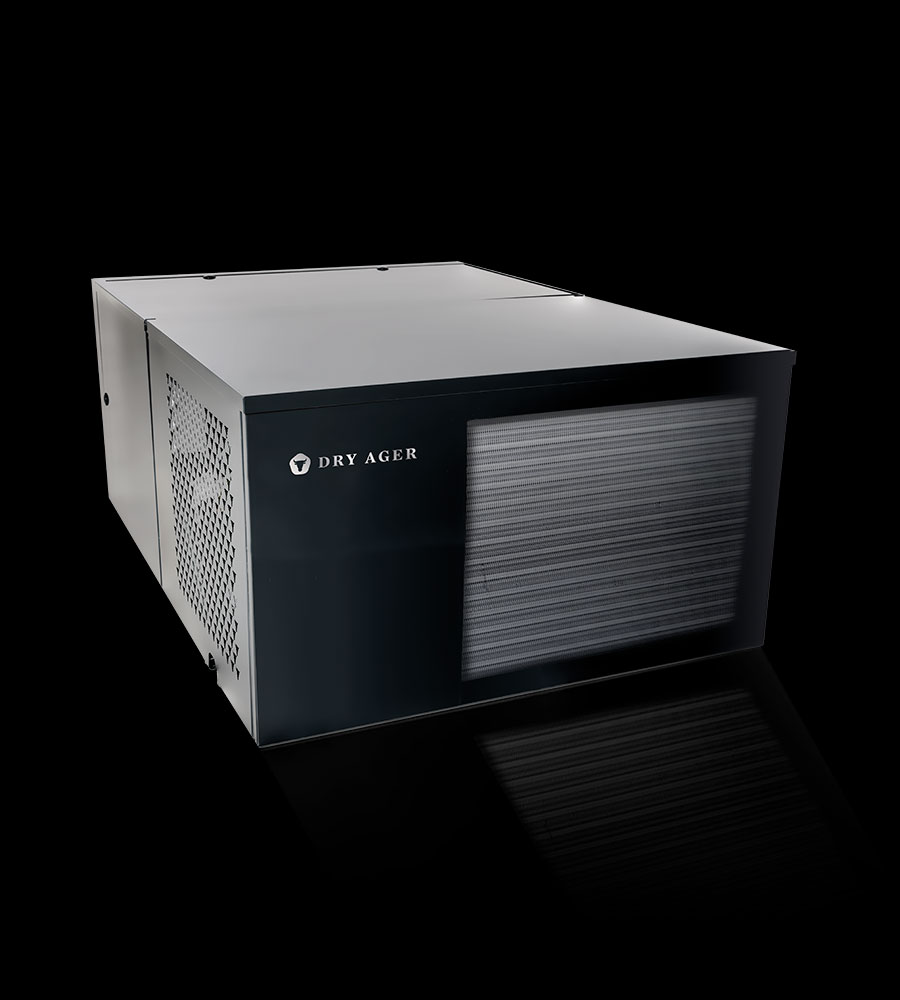 DRY AGER PRODUCTION UNITS
Price on request (click here)
Dry Aging Production aging-units (Plug & Play) as ceiling solution. This fantastic product can be retrofitted to any existing walk-in larder or cold room to produce dry aged meat, ham or charcuterie. Production units for a bigger demand – as a plug-in solution!
Scope of delivery
1 x DRY AGER® Dry Aging Cooling Plug & Play Unit
Shipping Information
Product is on stock, shipping time depending on destination. Dispatch is via a freight-forwarding company (well packed + fully insured on a pallet) after a notification by telephone.
---
Description
DRY AGING IN BIG STYLE – MADE IN GERMANY
Dry Aging has never been so easy. Superefficient plug & play cooling units, which can be retrofitted to any existing walk-in larder or cold room. Make an opening in the ceiling, put this solution on top and plug it in – done! DRY AGER™ SOLUTIONS – as individual as your requirements.DRY AGER™ – Dry Aging cooling units are supplied as plug-in solutions and have all the technical features of a fully equipped dry aging production facility. The integrated UVC sterilization ensures maximum safety and guarantees perfect dry aging results. Dry Aged beef, pork, salami, ham and cheese can be produced with unprecedented flexibility. Weight loss after 4 weeks of dry aging meat on the bone, is a maximum of 10%. No fixed water connection is required. Split solutions available on request.Of course, the cold room can still be used for normal refrigeration and storage of food. Available models depending on unit size:
DX 6000 PREMIUM – for up to 10 m³ capacity, Art. No. DX6000
DX 7000 PREMIUM – for up to 16 m³ capacity, Art. No. DX7000
DX 8000 PREMIUM – for up to 24 m³ capacity, Art. No. DX8000
Tip: For larger room capacities, several DRY AGER™ production units can simply be used.
Technical Details
EXTERNAL BODY – grey powdercoated
VOLTAGE – 220-240 V – 16 amp domestic supply
TEMPERATURE RANGE – electronic controller in 0.1 °C increments from: 0 °C to +25 °C
HUMICONTROL – electronic humidity controller from 60 % to 90 % (no external water supply necessary)
DX AIRREG – optimal airflow & UVC sterilization system
DEFROST AUTOMATIC, AUTOMATIC CONDENSATION EVAPORATION, OPTIC AND ACOUSTIC ALERT
DX 6000 PREMIUM
– for up to 10 m³ capacity, Art. No. DX6000
COOLING POWER APPROX. – 1000 W
NOMINAL CONSUMPTION – 680 W / 16 A
DIMENSIONS APPROX. – 400 x 700 x 900 mm (HxDxL)
DX 7000 PREMIUM
– for up to 16 m³ capacity, Art. No. DX7000
COOLING POWER APPROX. – 1800 W
NOMINAL CONSUMPTION – 1260 W / 16 A
DIMENSIONS APPROX. – 500 x 860 x 1000 mm (HxDxL)
DX 8000 PREMIUM
– for up to 24 m³ capacity, Art. No. DX8000
COOLING POWER APPROX. – 2300 W
NOMINAL CONSUMPTION – 1800 W / 16 A
DIMENSIONS APPROX. – 500 x 860 x 1000 mm (HxDxL)