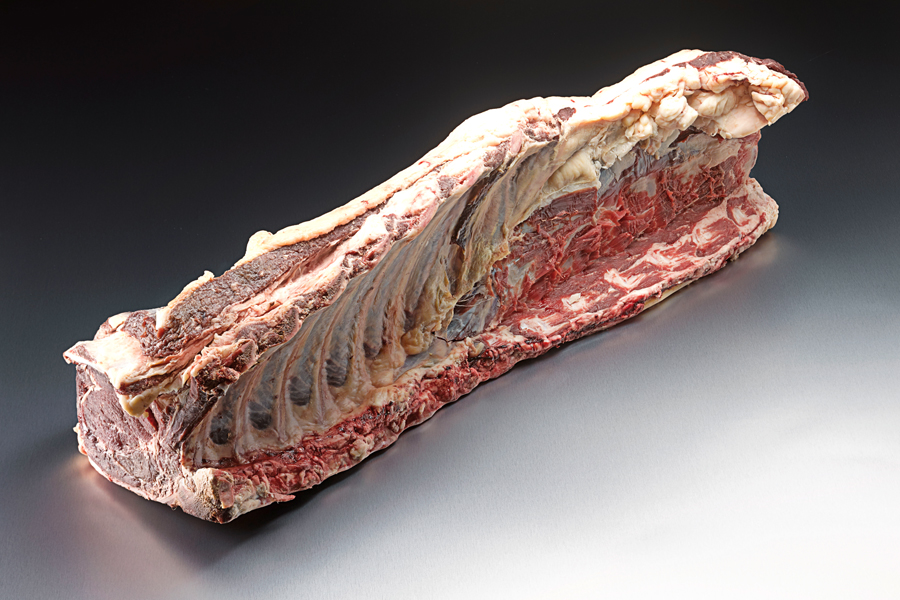 BEEF! ® Catle Ridge (Red Heifer)
Whole cattle ridge without fillet, in Red Heifer quality (kilo price: € 28.- gross) – Convenient delivery at home.
Shipment
1 x whole cattle ridge, cooled (weight between 21.5 and 28 kg)
Shipping-Information
Delivery Time: 8 – 15 Working Days
---
Order best meat quality for your BEEF!® DRY AGER®
With recomendation from BEEF!® (Ausgabe 05 / 2015)
– Delivery of fresh meat, only a few days after slaughter
– Cooled delivery by UPS on the foreseen day
– Weight approx. 21.5 to 28 kg with grammatical billing on the shipping day
– Shipping only to customers from Germany possible
Not every meat is suitable for dry aging. So order directly from the Dry Aging expert a whole cattle ridge comfortably to your home. Enjoy the best quality and a cattle ridge, which is very beautifully marbled and particularly tender. What's next: 4 weeks of dry aging in your BEEF! ® DRY AGER® refrigerator – you will be impressed by your dry-ripened cattle ridge.
Quality:
Red Heifer from the own breed of eatventure GmbH, the meat partner of DRY AGER®. This meat is the result of the so-called "golden cross breeding" by producers & traders of the company eatventure GmbH, which combines the best qualities of different cattle breeds in the offspring. It comes exclusively from female 24 months old cattle (heifer) from regional production in Germany (mostly Lower Saxony and North Rhine-Westphalia).
The back is delivered just a few days after the slaughter cooled by UPS to your home. The delivery is always on a Friday, expect about 7 to 14 days delivery time from your order and payment.
Important notes:
The animals are slaughtered only after your order and payment, therefore the final total weight and therefore also the total price is still not fixed. You pay 600 euros, which is converted at a kilo price of 28 € gross approx. 21.42 kg. You will then pay the remaining amount upon delivery to the UPS driver by cash on delivery, without additional charges. The total weight of a whole bovine backhoe can be as much as 28 kg, which is why a supplementary payment to the UPS driver of up to € 185.- is possible. The exact amount, which is still to be paid at your delivery, will be communicated to the shipping company eatventure GmbH by mail.
Please note that on the Friday beforehand, you must necessarily be at home to accept the goods, otherwise the meat must be disposed of at your expense instead of renewed delivery.
Information about the dealer & producer:
eatventure GmbH, David Schrand, Auf dem Sattel 4, 49757 Werlte, Tel. 05951 – 89 49 230