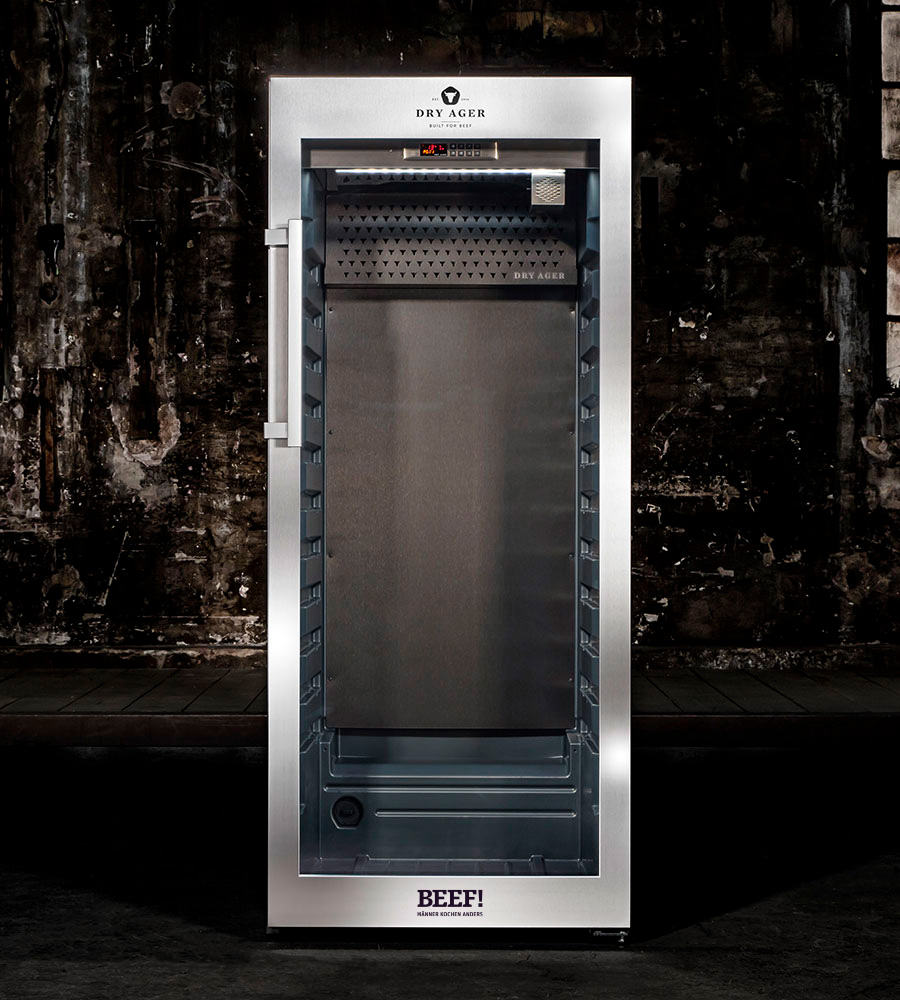 BEEF! DRY AGER DX 1000 Premium S
Price on request (click here)
DRY AGER® – The original
BEEF! DX 1000® Premium S – the pro device with guaranteed success. For the production of Dry Aged meat, ham, sausage, fish, cheese, and much more. With SmartAging® technology. Loading up to 100 kg.
Scope of Delivery
1x DRY AGER® Dry Aging Fridge DX 1000® Premium S (with SmartAging®)
1x DX0011 Rack
Tip: Additional accessories such as salt blocks, shelves, meat labels or a display podium are available in the accessories section
Shipping information
Delivery time in Germany: approx. 14 days
(6-8 business days processing + max. 3-4 business days transit time).
Forwarding shipment (fully insured on pallet) with notification by phone
Warranty
2 years full warranty for commercial and private customers
3 years full warranty – in the case that you select a warranty extension:
€ 299.- gross amount additionally for private and corporate customers (for details, see Terms and Conditions)
---
BEEF! DX 1000® Premium S Dry Aging Fridge
Therefore, the original
The BEEF! DRY AGER DX 1000® Premium S is a plug-in full Dry Aging pro cabinet, equipped with all Dry Aging features and does not require a water connection or tank. At the same time, it looks as good as it works. Timeless modern design on the outside – high-precision, sophisticated technology on the inside: Craftsmanship meets high-tech.
With its load volume of 100 kg of meat, the BEEF! DRY AGER DX 1000 Premium S is just big enough for you to get really creative. As an absolute eye-catcher in any salesroom, butcher shop, restaurant, hotel, or hobby space, the Dry Aging Fridge is suitable for efficiently aging larger quantities. The Dry Aging Fridge can be placed freestanding or easily integrated into a wall.
+Free XL Accessories-Package:
In this exclusive BEEF! Edition you get all essential accessory products free of charge. The stainless steel hanger, the saltair salt tray and the saltair salt block set complement your DRY AGER perfectly.
Suitable accessories such as Saltair salt blocks, shelves for meat, shelves for charcuterie, a display podium, "The Dry Aging Bible," and much more can be ordered in the Extras/Accessories section.
DRY AGER® Features Overview
SmartAging®
Unique and only in the BEEF! DRY AGER® Dry Aging Fridge! Thanks to the integrated SmartAging® technology, meat, ham, fish, sausage, cheese, herbs, pasta, and much more can be easily aged or dried at the touch of a button. Dry aging has never been so easy and safe. Learn more about SmartAging® here.
Precise parameters
The intelligent control system of the Premium S models allows temperatures from 0 to +30 °C as well as humidity values between 40 and 90%, each electronically controllable, of course. Automatically with the SmartAging® programs or in manual mode. A water connection or tank is not necessary thanks to HumiControl.
Absolute cleanliness
Dangerous bacteria and germs don't stand a chance. The BEEF! DX 1000 Premium S has an active UVC sterilization box that completely disinfects the entire air mass in the Dry Aging Fridge at least 1x per minute. The activated carbon filter additionally cleans the incoming air. The inner container is made of an antibacterial material and features a sophisticated design that ensures easy cleaning. A SmartAging® pre-cleaning program ensures perfect initial hygienic conditions after each aging cycle.
Minimal weight loss
Beef is at just about 7-8% weight loss after 4 weeks of aging on the bone and about 12% after 6 weeks. These values are unparalleled and are directly reflected when it comes to your wallet.
Functional, award-winning design
Winner of many prestigious design awards, the DRY AGER® Dry Aging Fridge is guaranteed to be the best choice. The inner container is antibacterial and is shaped to facilitate cleaning and prevent the formation of dirt in corners. The bottom surface slopes backwards to prevent liquids from spilling out of the unit. The integrated DX LED Premium light strips, which are integrated in the door on both sides, perfectly illuminate the food in the Dry Aging Fridge.
You have a concern or a question?
Call us or send us a message.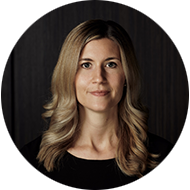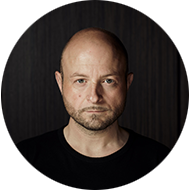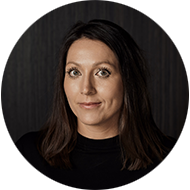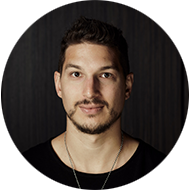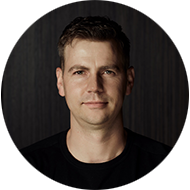 We're here for you.
BEEF! DX 1000® Premium S
HOUSING – stainless steel
INNER CONTAINER – antibacterial polystyrene
INNER BACK WALL – black steel, black brushed stainless steel
INSULATING GLASS DOOR – UV protection, tinted (metalized)
INTERNAL DIMENSIONS – 137.1 x 57.8 x 58.7 cm (H x W x D)
EXTERNAL DIMENSIONS – 165.0 x 70.0 x 74.2 cm (H x W x D)
INTERNAL CAPACITY / NET – 495 / 435 l
VOLTAGE – 220-240 V / 50 Hz
POWER CONSUMPTION – despite glass door only 1.8 kWh / 24 hours
TEMPERATURE RANGE – electronically adjustable in 0.1 °C steps: 0 °C to +30 °C
RELATIVE HUMIDITY – Thanks to HumiControl®, the relative humidity is electronically adjustable from 40 to 90% (no water connection or tank required)
AIR FLOW & HYGIENE – Thanks to DX AirReg® optimal air flow, fresh-air activated carbon filter, and UVC sterilization
SMARTAGING® – SmartAging® technology enables automated aging including guaranteed success
INTERIOR LIGHTING – Infinitely dimmable DX LED Premium light strips, integrated into side panels, as well as in the head area, for the best possible illumination of the cabinet contents. Light spectrum does not contain ultraviolet radiation. Minimal heat .
MAXIMUM LOAD – up to 100 kg of meat
AUTOMATIC DEFROSTING, VISUAL AND AUDIBLE ALARMS, LOCKABLE DOOR, CHANGEABLE DOOR HINGE, CAN BE INSTALLED OR USED AS A FREE-STANDING UNIT


INSTALLATION DIMENSIONS SINGLE UNIT AND MULTIPLE UNIT (SIDE-BY-SIDE)
Installation drawings are available and we are glad to provide these to you.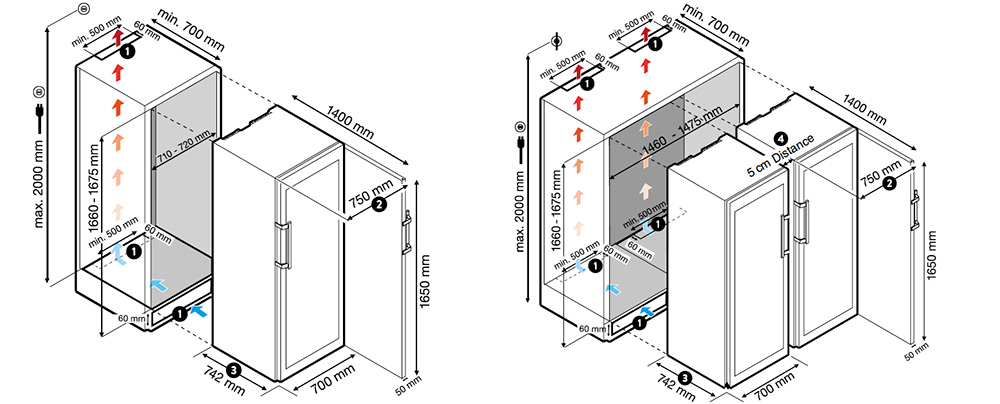 The matching 5 cm STAINLESS STEEL PANEL when installing multiple devices can be bought directly from us for EUR 75.- gross.
Please contact our service staff: Phone 07581 – 489 59 0