Recipes
Dry-Aged Beef fillet with parmesan crust and pea puree
---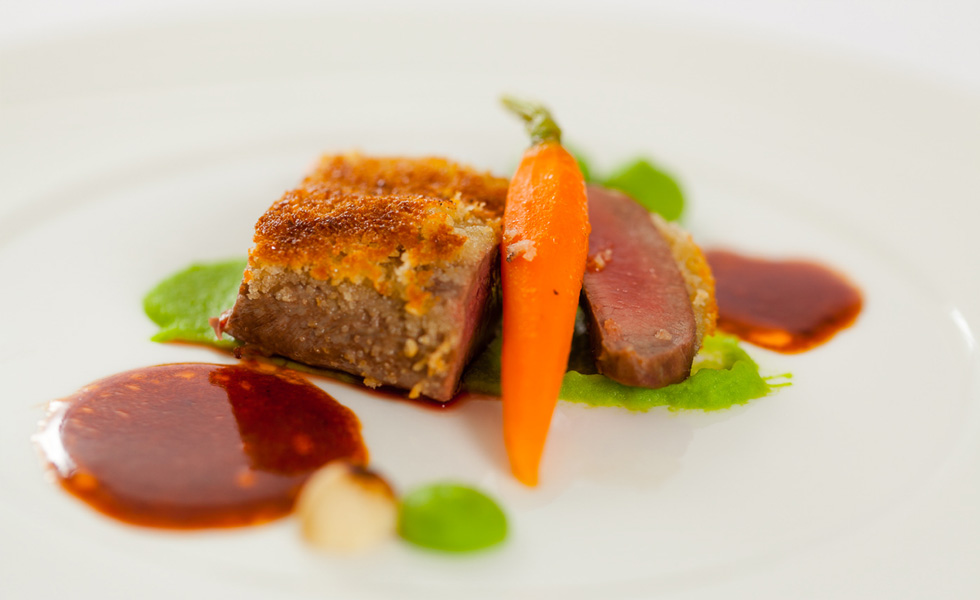 Beef as a premium piece of meat, should always be prepared with a lot of respect for the animal. So we leave it initially in the DRY AGER® under controlled temperature and humidity before it is processed further. For beef a delicious crust always works well, which is why we prepare it in this recipe with Parmesan.
That leaves the fine and aromatic meat looking even nobler and the contrast with the Parmesan is just terrific. Serve with a light pea puree and a little asian hot sauce, which rounds the whole thing off and serve as a dip.
Preparation mushy peas & carrots
Clean and wash the mini carrots.
Blanch al dente in salted water.
Heat a pan with butter.
Add the vegetables to the pan and cook over a medium flame.
Cook the potato and process it into puree.
Put the potatoes to the pureed peas in a blender.
Season with salt and truffle oil.
Preparation Dry-Aged beef:
Take the Dry Aged beef fillet out of the fridge 30 minutes before cooking.
Bring up to room temperature.
Preheat the pan, brush with some oil.
Put rosemary, garlic into the pan.
Now place the Dry Aged steaks in to the pan.
I recommend cooking "medium".
Do not forget pepper and salt after serving.
Preparation parmesan crust
Grate the parmesan finely.
Place beef pieces in a pan.
Add the parmesan cheese on the meat.
Preheat the grill.
Important: Briefly fry the beef in the pan, otherwise the grill will cook the beef too much. This should be avoideded if possible if it is to be served rare or medium.
Incredients for 4 persons:
4 thick slices of beef
2 garlic cloves
1 sprig of rosemary
100 grams parmesan
400 grams peas
200 gram mini-carrots
2 onions
some oil
Pepper
Salt
Chilisouce to dip
Some butter
1 large potatoe
1 TS truffle oil
100 ml vegetable broth