Get 10 % off
EVERYTHING* with code » BLACK23 «
Recipes
Dry Aged Beef Tenderloin with French Fries, String Beans and Thyme Butter
---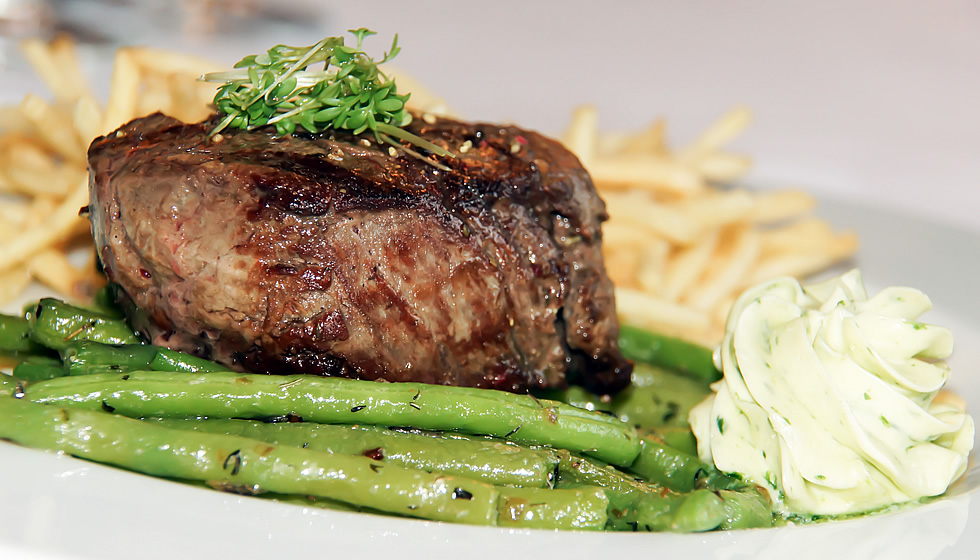 Dry aged beef tenderloin from the grill is a delicious piece of meat. Filet is delicious as it is, but when matured in our Dry Ager, the meat acquires a whole different quality. We bought Simmental cattle and conditioned it for 28 days in our Dry Ager. It lost ca. 10% of its weight, but therefore gained aroma and tenderness. Try it!
Preparation:
Prepare the french fries according to the directions on the package.
Place the butter on a plate.
Separate the thyme leaves from the stalks and chop finely.
Mix the thyme, pepper and salt into the butter.
Now place the butter into the fridge to cool.
Wash the string beans, clean them and remove the ends.
Cook the string beans in salt water to your preference.
Heat up a pan with some butter inside.
Drain the string beans and place them in the pan.
Keep stirring everything for circa 3 minutes, then keep warm.
Take the beef tenderloin steaks out of the fridge circa 30 minutes prior to preparing them.
Fire up the grill.
Brush some oil onto the steaks.
Place both steaks on the grill.
I recommend that you grill the steaks "medium" at most.
Depending on the thickness of the steaks, you can use a meat thermometer to help you control the process.
Arrange everything on plates and serve!
Ingredients:
For 4 people
4 thick slices of dry aged beef tenderloin
Pepper
Fleur de Sel
1 package of good french fries
400 g string beans
100 g butter (and leave some more for the pan)
5-6 stems of thyme
oil