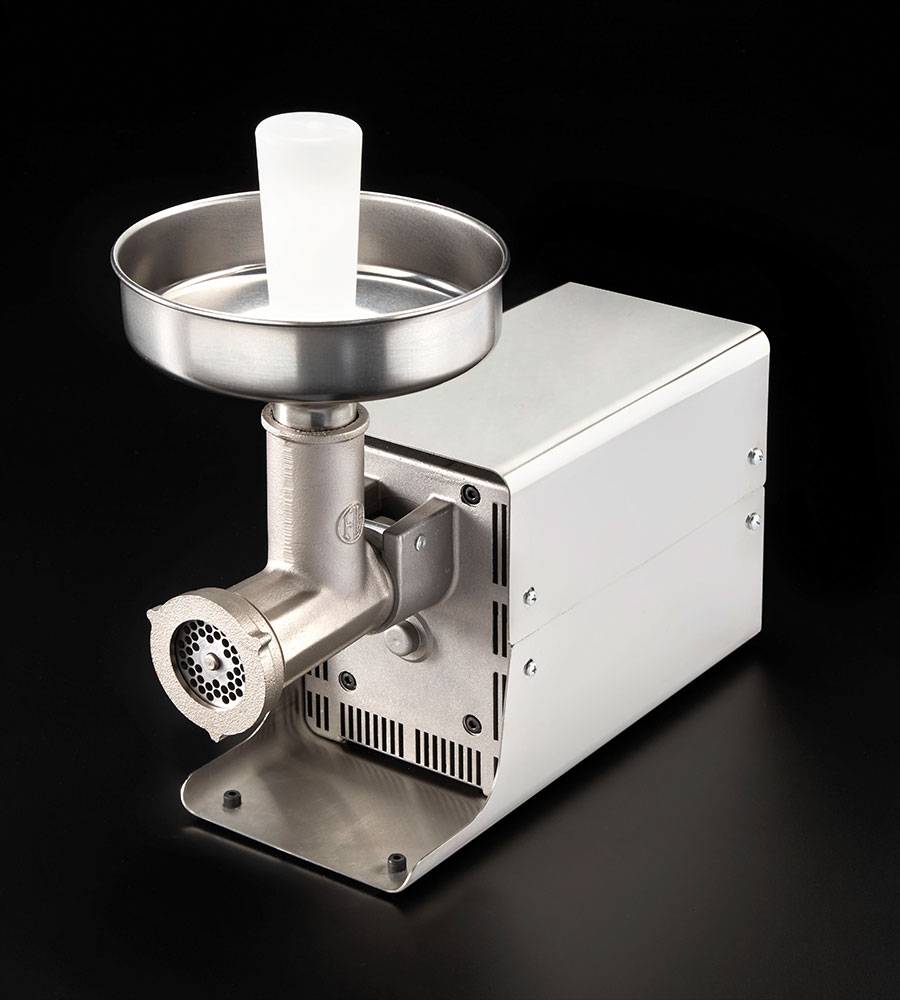 Meat Mincer L-Star
The mincer for continuous operation and production of minced meat and sausages from Dry Aged Beef: The professional mincing machine L-Star will mince up to 150 kg per hour.
Shipment
1 x Mincer L-Star (DX0160)
Shipping-Info
Product is on stock, shipping time depending on destination.
---
Professional equipment for the processing of Dry Aged Beef:
As they say: Here lies Performance & power. The mincer L-Star for Domestic & Commercial use. This device is designed for continuous operation and made from stainless steel, including internal worm gear and all drive parts. The Mincer can cope with up to 150 kg of meat per hour. The 380-watt asynchronous induction motor with gear and overload protection performs better than any household mincer with 2000 W and direct drive. See for yourself!
Technical specifications:
• Power: 380 watts (professional gear)
• Housing: stainless steel
• Filling bowl: stainless steel, angular shape (picture shows round version of smaller model M-Star)
• Auger: Nipoly coated, abrasion resistant cast steel, extremely robust and stainless, drive pin stainless steel hardened
• Mincer attachment: Nipoly coated, abrasion-resistant cast steel, extremely robust and rust-free
• Voltage: 230 V
• Weight: 10.8 kg
• Dimensions: 450 x 195 x 350 (LxWxH)
Included Accessories:
2 x perforated disc of stainless steel (4,5 + 10 mm)
1 x Stainless Steel Cross Knife
1 x Mincer pestle for meat
1 x Sausage hopper
Additional perforated discs in almost any size available on request.
Important NOTE:
The figure shows the smaller model M-Star.