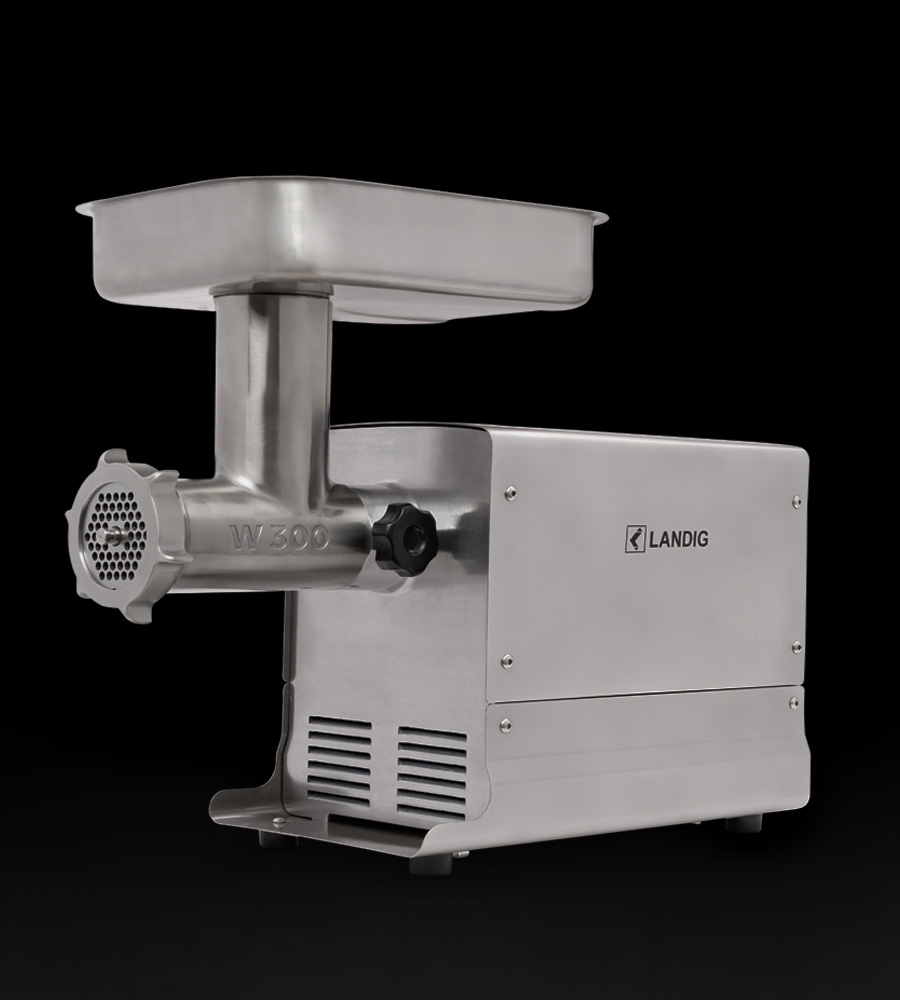 Meat Mincer W 300
The mincer for continuous operation and production of minced meat and sausages from Dry Aged Beef: The professional mincing machine W 300 will mince up to 200 kg per hour.
Shipment
1 x Mincer W 300 (FL0300)
Shipping-Info
Product is on stock, shipping time depending on destination.
---
Professional equipment for the processing of Dry Aged Beef:
As they say: Here lies Performance & power. The mincer W 300 for Domestic & Commercial use. This device is designed for continuous operation and made from stainless steel, including internal worm gear and all drive parts. The Mincer can cope with up to 200 kg of meat per hour. The 2645-watt WolfsHeart™ Motor with gear and overload protection performs better than any household mincer. See for yourself!
strong>Technical specifications:
Throuhput: Up to 200 kg meat / h
Housing: Stainless steel
Power Pmax: 2645 Watt (professional gear)
Torque: 4,8 Nm
WolfsHeart™ Motor: Permanent air cooling, dual ball bearing gearbox and high torque with low power consumption
BigFeed™ Wolf: Taking up even large pieces, faster transport into the cutting head, no overfilling of the cutting set possible
Voltage: 230 V
On/Off switch: Standard
Cutting system: Stainless steel
Filling bowl: Stainless steel
Cleaning: Simple and hygienic. Attachment can be separated from the drive by quick release system.
Dimensions (LxWxH): 558 x 220 x 420 mm
Weight: 19,4 kg
Included Accessories:
2 x perforated disc of stainless steel (4,5 + 8 mm)
1 x Stainless Steel Cross Knife
1 x Mincer pestle for meat
1 x Sausage hopper
Additional perforated discs in almost any size available on request.