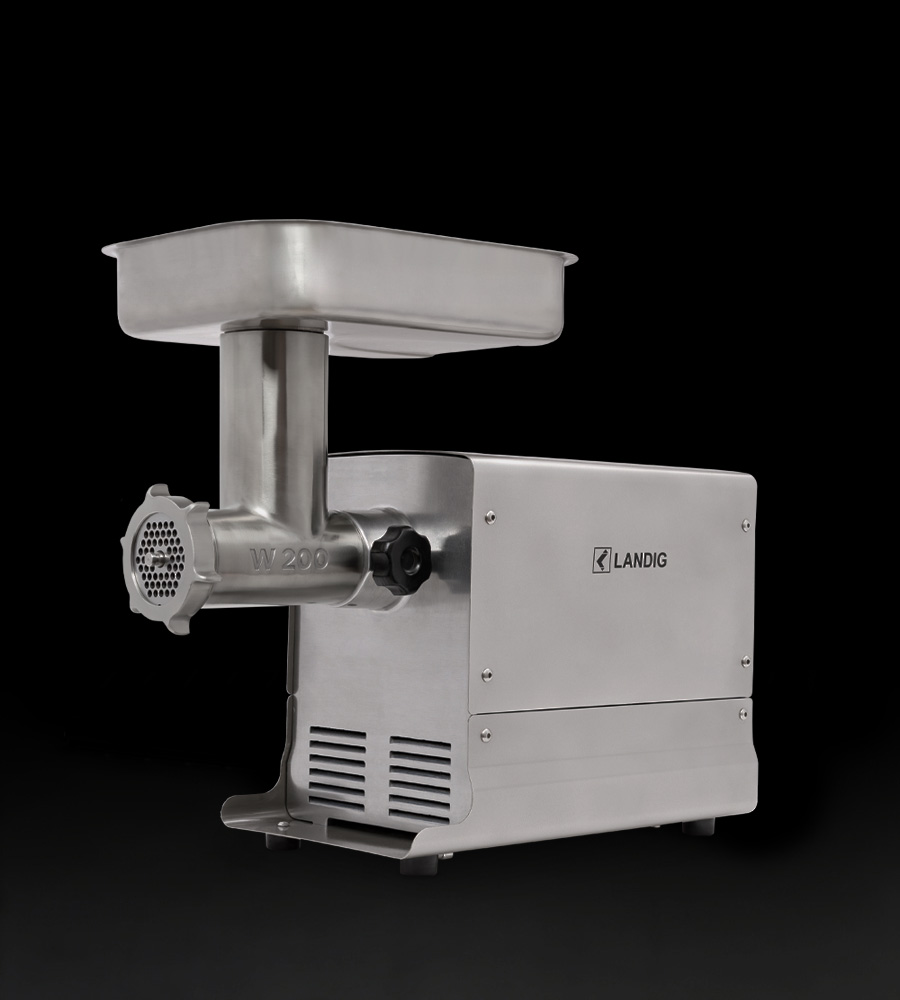 Meat Mincer W 200
For ground beef & sausage production. A strong partner for your Dry Aged Beef: The professional mincing machine W 200 with up to 150 kg throughput per hour.
Shipment
1 x Meat Mincer W 200 (FL0200)
Shipping-Info
Product is on stock, shipping time depending on destination.
---
Professional equipment for the processing of Dry Aged Beef:
This compact power-mincer for Household & Commercial becomes your favourite: The stainless steel mincer W 200 is perfectly finished down to the smallest detail, creating loose up to 150 kg of meat per hour. The 1955-watt WolfsHeart™ Motor with gear and overload protection performs better than any household mincer. You will be amazed!
Technical specifications:
Throuhput: Up to 150 kg meat / h
Housing: Stainless steel
Power Pmax: 1955 Watt (professional gear)
Torque: 2,5 Nm
WolfsHeart™ Motor: Permanent air cooling, dual ball bearing gearbox and high torque with low power consumption
BigFeed™ Wolf: Taking up even large pieces, faster transport into the cutting head, no overfilling of the cutting set possible
Voltage: 230 V
On/Off switch: Standard
Cutting system: Stainless steel
Filling bowl: Stainless steel
Cleaning: Simple and hygienic. Attachment can be separated from the drive by quick release system.
Dimensions (LxWxH): 518 x 220 x 420 mm
Weight: 16,7 kg
Included Accessories:
2 x perforated disc of stainless steel (4,5 + 8 mm)
1 x Stainless Steel Cross Knife
1 x Mincer pestle for meat
1 x Sausage hopper
Additional perforated discs in almost any size available on request.