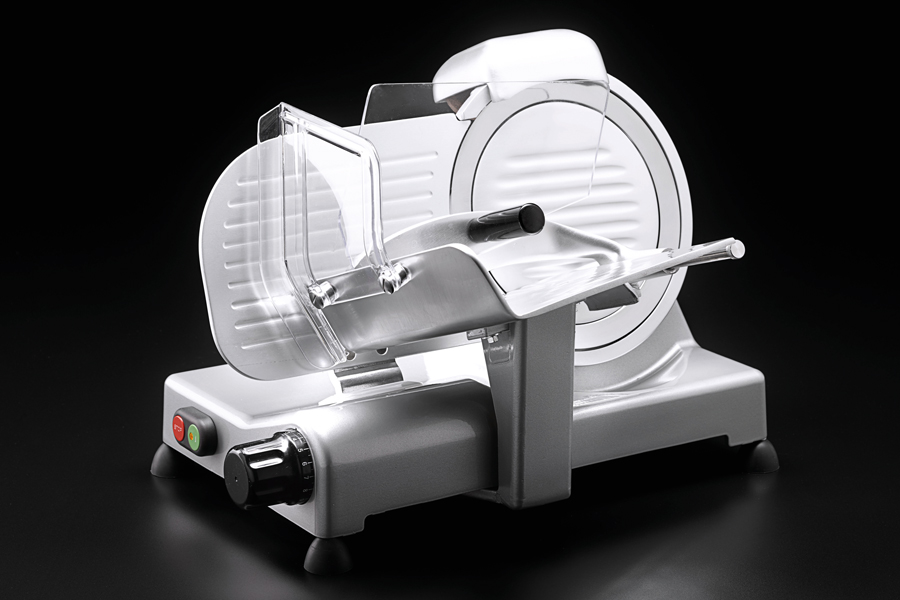 Slicing Machine
Allrounder professional device for meat, sausage, ham, cheese, bread and more – the guarantee of thinly cut slices.
Shipment
1 x Professional slicing machine (DX0190)
Shipping-Info
Product is on stock, shipping time depending on destination.
---
Professional equipment for the processing of Dry Aged Beef:
This cut guarantees from well! This high-quality slicer is equipped with an asynchronous induction motor + overload protection and is suitable for use in households and small businesses. Made from highly polished anodised aluminium, the machine keeps the high stresses that life can throw at.
The built-inclined slide runs with a permanently lubricated ball bearings and is therefore maintenance-free. Through a transparent hard plastic disc optimum protection is also granted.
Technical specifications:
• carriage movement: 240 mm
• Including Sharpening accessories
• Cutting capacity: 170 x 210 mm
• Cutting thickness: 15mm
• Power: 250 Watts
• Voltage: 220 – 240 V
• Weight: 13 kg
• Dimensions: 400 x 450 x 370 (LxWxH)