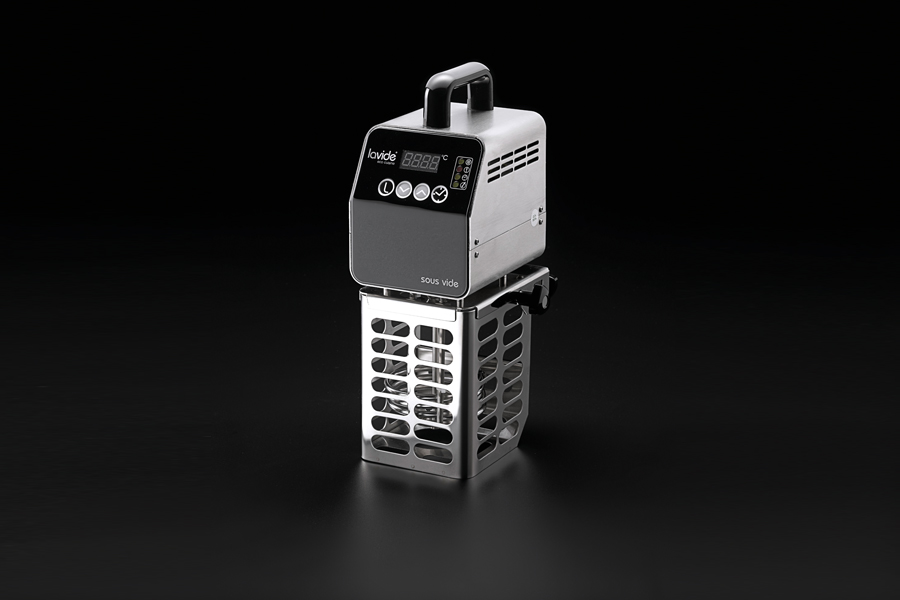 Sous Vide Stirrer LV.50
Enjoyment with perfection: Dry Aged Beef Sous-Vide. Cooking with Lavide LV.50® – made entirely of stainless steel. Unique in the world: With propeller instead pump.
Shipment
1 x Sous-Vide Stirrer LV.50® (LV0050)
Shipping-Info
Product is on stock, shipping time depending on destination.
---
Professional equipment for the processing of Dry Aged Beef:
The guarantee of a unique Dry Aged Beef enjoyment: The sous-vide immersion circulator LV.50® can be used flexibly in a cooking pot or a large tank to a maximum of 50 liters. The thermostat is perfectly finished down to the smallest detail, for maximum pleasure during SousVide cooking.
Unique:
Lavide used when LV.50® any pump which can easily calcify, but a high-quality and maintenance-free stainless steel propeller. The instrument is a quality product, with an average life of more than 15 years and not a cheaper Far Eastern imports in a plastic housing, as usually offered by the competition.
Technical specifications:
• Strong performance, suitable for up to 50 liters of water content
• Tempered water & oil, and therefore ideal for direct-cooking
• Click-A: Can be secured with a single click on any standard GN container
• Temperature accuracy with PID: ± 0.05 ° C
• Temperature setting range: + 5 ° C to + 95 ° C
• Display Input resolution: ± 0.1 ° C
• Voltage / Power supply: 220-240 V / 50-60Hz
• Strong heating power: 1250 W
• Electronic temperature control via backlit display with big numbers
• Overheating protection: Can be switched on only when water filled
• Stainless steel cage: reliably prevents vacuum bags get into the heating area
• Programmable timer: 1 min. to 99 h adjustable / with acoustic signal
• Safety Equipment: FI overtemperature protection
• Sturdy plastic handle on the unit above protects your hands from too much heat
• Weight: 4.7 kg
• Dimensions: (L x W x H): 191 x 122 x 349 mm (incl. attachments such holder & handle)
Learn more around the LV.50® directly under: http://www.la-va.com/sous-vide-stirrer-lv50.htm