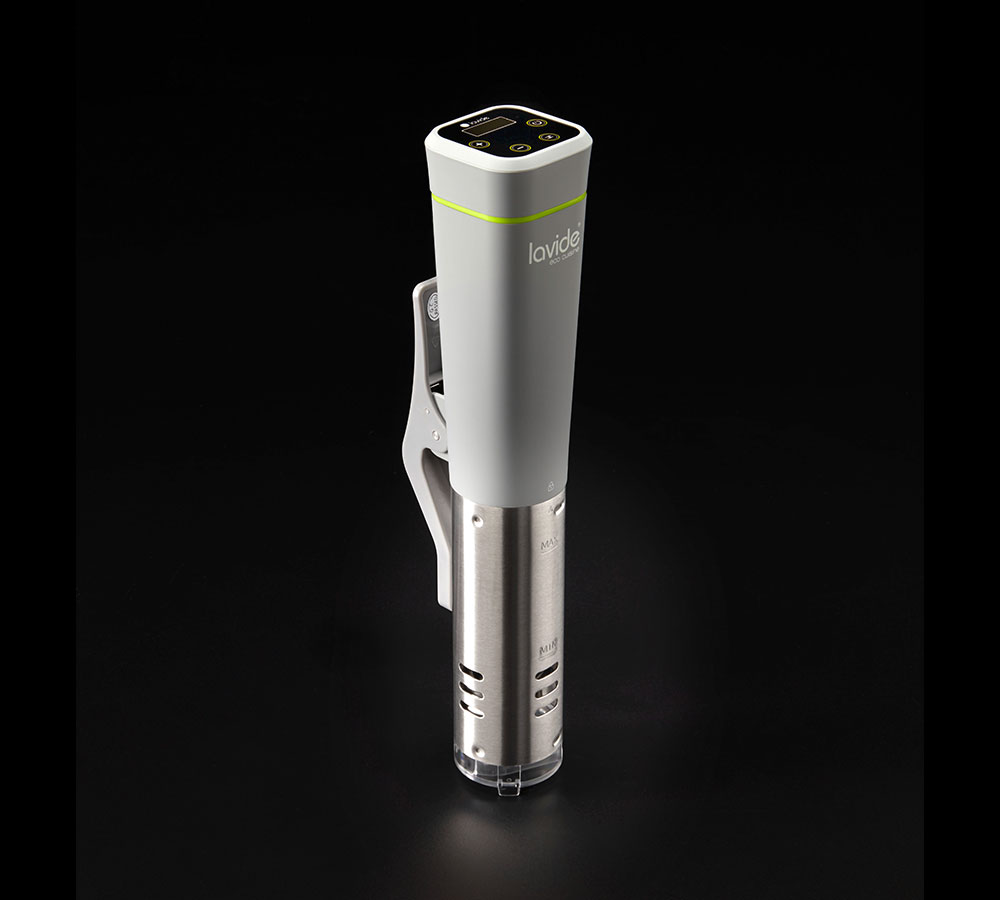 Sous Vide Stick LX.20
Perfect cooking results like in a top-class restaurant: the Sous Vide Stick LX.20 convinces with high performance and a temperature accuracy of +/- 0.1 °C.
Shipment
1 x Sous Vide Stick LX.20 (LX0020)
1 x Bag black
Shipping Info
Product is on stock, shipping time depending on destination.
---
Powerful and flexible – compatible with any round or square container or pot.
Sous vide or vacuum cooking – what for a long time was only known from star kitchens is now finally possible at home with the appropriate equipment.
The powerful and precise Sous Vide Stick LX.20 is the perfect tool for all those who want to cook their food to perfection. The perfectly grilled steak is therefore no longer a problem.
Operation is very easy: thanks to the flexible holding clip you can place the stick in any heat-resistant container and start the programme. Thanks to its incredibly powerful 1200 W output, the target temperature is reached in a flash. The stick monitors the water temperature with an accuracy of +/- 0.1 °C and thus ensures perfect cooking results.
The integrated circulating propeller ensures a constant temperature throughout the water basin and allows the food to draw evenly.
In addition to classic sous vide cooking, the Sous Vide Stick LX.20 can also be used for gently defrosting frozen food. Simply place the stick in cold water together with the frozen food. Then switch on the Sous Vide Stick (not higher than 25°C) and wait. The duration depends on the weight of the goods.
High Power: 1200 W
31 x 5,5 cm (H x W)
Temperature accuracy: +/- 0.1 °C
Colour: grey
Waterproof version (IPX7)
High-quality rubberized surface for perfect handling
Circulation pump and propeller for high temperature stability
Timer up to 99h 59min
Temperature range electronically adjustable from 0 to +90 °C
Suitable for 5 to 20 litres water volume
Dry-run protection system
LCD Touch Display