Knowledge
The holy trinity of Dry Aging: meat, DRY AGER & the bible
---


Why do I need a book to refine meat in a Dry Aging unit?
If you want to conjure up a truly amazing delicacy from excellent meat such as the back of a German heifer, you are, of course, first going to need a DRY AGER Dry Aging unit, as only the original among the various dry aging cabinets can refine meat cuts of all kinds simply and safely without requiring any special expertise. Thanks to the new SmartAging® technology of the DX series, the special program for each Dry Aging project can be started simply and easily at the push of a button. The rest runs fully automatically. But the DRY AGER Dry Aging unit can do much more, a lot more – how about homemade sausages or ham?  Or do you want to delve deeper into the world of professional refining and could use a few tips on the ideal degree of maturity for specific cuts of the desired type of meat? Then you should definitely take a look in the DRY AGING BIBLE – the ultimate guide for your journey to the seventh heaven of Dry Aging!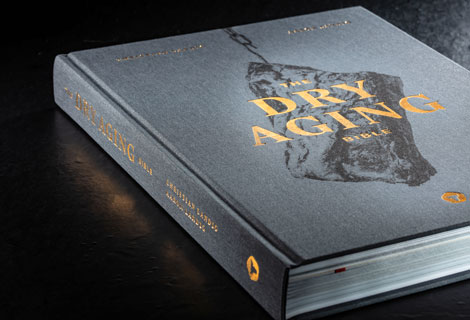 What exactly does the combination of bible and DRY AGER do for me?
The fact that the DRY AGING BIBLE has over time won practically every book award in the world has a lot to do with its incredible level of detail. The refining instructions alone including valuable insider tips on roughly 40 individual cuts of beef, pork, lamb, and game, as well as poultry and fish, take your Dry Aging projects to a completely new level – also by the consistent, highly aesthetic photographs that show the meat each time before and after the Dry Aging process. In addition, there are also numerous recipes from top chefs for turning these cuts into world-class meals. As the first book on this topic internationally, the DRY AGING BIBLE provides you with information on everything you need to know about the history, practice and theory of Dry Aging – all the way to an easy-to-understand summary of biochemical meat research.
Does the bible turn the DRY AGER Dry Aging unit into a small sausage factory?
Professional butchers or well-versed sausage fans with a lot of experience have always been able to produce tasty salamis, sausages, hams, or jerkies with the aid of the DRY AGER climate unit. This is now also possible without a lot of previous knowledge: with the detailed instructions and recipes of the DRY AGING BIBLE, which is much more than just a guide to SmartAging® at home. Whether it's Milanese salami, Black Forest ham, chorizo, pastrami, South Tyrolean bacon, or Kaminwurz sausages – dozens of these snack-time favorites are described in a foolproof manner in the recipes and workshops.
And what else do I need for perfect refining and sausage making?
When you are making sausages and hams, besides high-quality meat cuts and the intelligent SmartAging® programs of the DRY AGER Dry Aging unit, what really makes the difference is the spices used. The rich mix of aromas for salsiccia, chorizo, Mettwurst, Lardo, venison ham, or pancetta require a lot of experience and years of practice. All the more convenient that each individual spice of our recipes is listed down to the gram in the DRY AGING BIBLE. And for those who don't want to go through the tedious effort of gathering all these ingredients separately, they can simply buy the ready-made spice mixes for ham and sausages, which have been prepared with the book recipes in mind.
To make perfect dry-aged steaks, world-class hams, or professional sausage specialties at home, all you need, besides the right spices, is just three things: good meat, a DRY AGER Dry Aging unit, and the DRY AGING BIBLE.