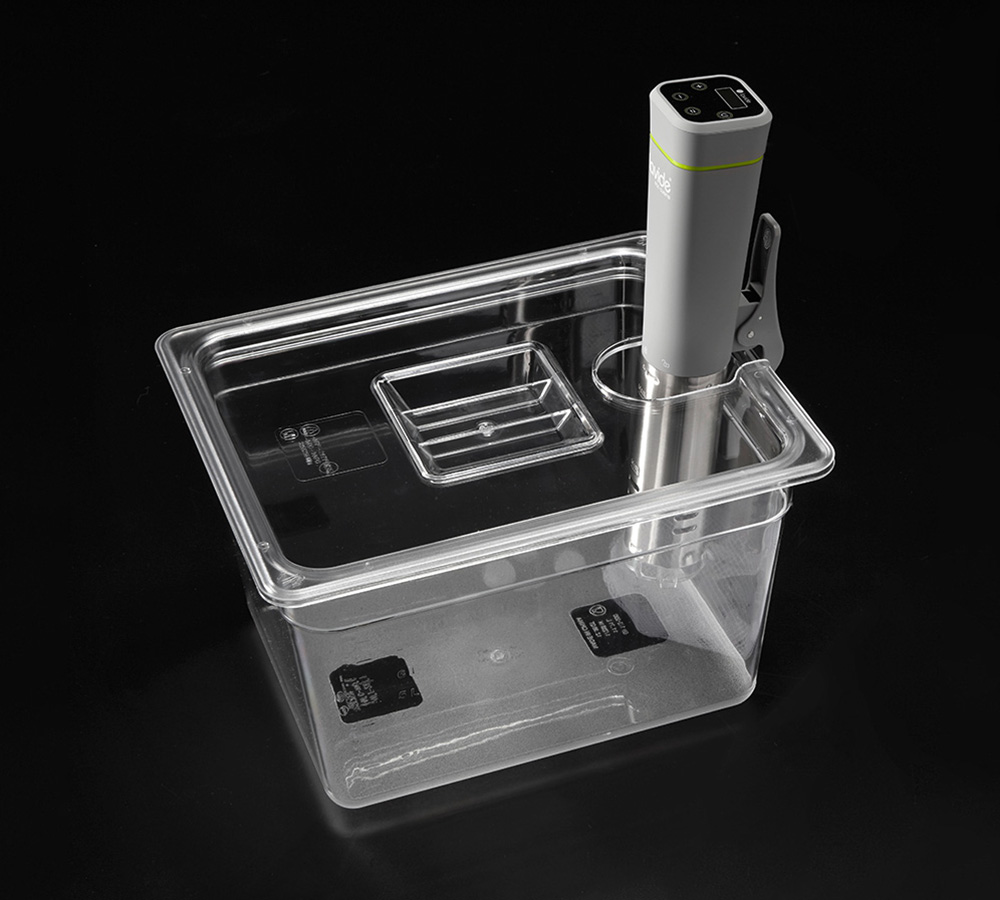 Sous Vide Set
Professional sous vide set consisting of powerful sous vide stick, 12 litre sous vide basin (incl. Sous Vide Insulation Cover), with lid and practical sous vide bag holder.
Shipment
Sous-Vide-Set (LX0030)
consisting of:
1 x Sous Vide Stick LX.20
1 x Sous Vide Basin (12 litre)
1 x Sous Vide Insulation Cover
1 x Sous Vide Bag Holder (stainless steel)
Shipping Information
Product is on stock, shipping time depending on destination.
---
Fully equipped – the Sous Vide Set
Bring your cooking skills to a new level. Spoil your family or friends with meat, fish or vegetables cooked to the point. Even during the barbecue season, the sous vide method is the perfect solution for achieving perfect cooking results – and without any stress. Are you still looking for a suitable gift for a hobby chef? With the sous-vide stick you are definitely on the right track.
The Sous Vide Stick LX.20 impresses with its incredibly powerful output (1200 W) and high accuracy of +/- 0.1 °C. This guarantees perfect cooking results.
The sous vide basin (12 litres) made of heat-resistant, transparent plastic has a tailor-made recess in the lid for the Sous Vide Stick LX.20. This means that no water evaporates even during longer cooking times and the heat remains in the basin for much longer.
Thanks to the insulation cover made of special neoprene, heat loss and temperature fluctuations are reduced to a minimum. With the cover on, up to 25 – 30% energy can be saved and even more perfect results achieved.
To achieve even cooking results when preparing several bags at the same time, the cooking bags can be clamped in the practical stainless steel sous vide bag holder. This prevents the bags from floating up.
Sous Vide Stick
High Power: 1200 W
31 x 5,5cm (H x W)
Temperature accuracy: +/- 0.1 °C
Colour: grey
Waterproof version (IPX7)
High-quality rubberized surface for perfect handling
Circulation pump and propeller for high temperature stability
Timer up to 99h 59min
Temperature range electronically adjustable from 0 to +90 °C
Suitable for 5 to 20 litres water volume
Dry-run protection system
LCD Touch Display
Sous Vide Basin
Dimensions: 320 x 260 x 200 mm (L x W x H)
Precisely fitting cut-out for sous vide stick in the lid
Dishwasher safe, food safe